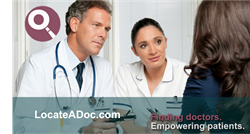 We are honored to have such highly experienced and qualified doctors agree to join our Advisory Board
(PRWEB) August 26, 2014
Premier online doctor directory, LocateADoc.com, has recently announced 12 new members to its Medical Advisory Board, continuing the tradition of providing effective business direction and quality industry insights to the LocateADoc.com team.
As a group of the nation's most highly qualified medical professionals, LocateADoc.com Medical Advisory Board's main objective is to assist the Executive Management in customer satisfaction, to ensure clients and future patients receive the best results in their search for the right physician on the top online doctor directory. These 12 new appointed board members serve as some of the most elite in their fields, which may include Plastic and Cosmetic Surgery, Infertility, Weight Loss, Ophthalmology, and Podiatry.
"We are honored to have such highly experienced and qualified doctors agree to join our Advisory Board," LocateADoc.com CEO Glen Lubbert stated. "With their insight and expertise, LocateADoc.com will continue to remain the most trusted doctor directory for those seeking for the best physicians for their families."
About the New Medical Advisory Board Members:
Thomas W. Clark, M.D. specializes in Bariatric Surgery. Using the most innovative tools and techniques in medical bariatrics and combining it with traditional weight loss techniques, Dr. Clark's patients each lose an average of 100 pounds.
Remus Repta, M.D. specializes in Cosmetic Surgery, Plastic Surgery, Facial Plastic Surgery, and Minimally Invasive Surgery including BOTOX. Dr. Repta performs a variety of surgeries including breast enhancement surgery, body contouring and facial rejuvenation with a promise to help you look vibrant and natural at any age.
Barry L. Eppley, M.D., D.M.D specializes in Cosmetic Surgery, Plastic Surgery, Anti-Aging, Facial Plastic Surgery, and Minimally Invasive Surgery such as BOTOX. Dr. Eppley is a highly experienced double board-certified plastic surgeon helping his patients achieve natural-looking results.
Dr. Bill Rice, D.C., Lac, F.A.C.C.N., D.C.B.C.N. specializes in Weight Loss Programs, Chiropractic and Acupuncture. Dr. Rice is a Holistic Practitioner who also utilizes nutritional and lifestyle counseling to his patients, who range from newborn to geriatric.
Dr. Jeffrey Radack, D.P.M., F.A.C.F.A.C. specializes in Podiatry. Dr. Radack's office provides the latest technology and treatment methods in managing a variety of foot or ankle problems.
Dr. M. Kayser, M.D., F.A.C.S. specializes in Cosmetic Surgery, Plastic Surgery, Facial Plastic Surgery, and Minimally Invasive Surgery. Dr. Kayser is committed to each individual patient's beauty, refinement, and the establishment of a personal relationship.
Dr. Wendy J. Schillings, M.D., F.A.C.O.G. specializes in Infertility (IVF). A board certified Reproductive Endocrinology and Infertility specialist, Dr. Schillings leads all aspects of patient care at RMAPA.
Dr. Robert Korwin, M.A.G.D., M.I.C.O.I. specializes in Cosmetic Dentistry, Dentistry, Implant Dentistry and Orthodontics. Dr. Korwin's thorough dental planning process involves digital imaging with sculpted before-and-after models to determine patients' ideal smile.
Dr. Robert Leonard, D.O. specializes in Hair Restoration. Dr. Leonard uses the most innovative technology in hair restoration and has 27 years of experience to help potential restore lost hair.
Dr. William S. Goldstein, M.D., specializes in Ophthalmology, LASIK and Cataracts. Dr. Goldstein has performed refractive surgery to manage a wide range of eye problems found in surgeons, nurses and many other healthcare professionals.
Dr. Emilio M. Justo, M.D. specializes in Cosmetic Surgery, BOTOX, Ophthalmology, and Cataracts. With 25 years of experience, Dr. Justo is regionally recognized as an expert in cosmetic enhancements and ophthalmological treatments.
Dr. Marian Blaesser Kahn, D.N.P., specializes in Weight Loss. Her Wellness NP of Michigan offers a safe, effective weight loss system under the care of weight loss experts.
Dr. Rachel Eddins, M.Ed., LPC specializes in Psychology. Dr. Eddins hold various prestigious certifications from organizations such as the American Group Psychotherapy Association, the National Career Development Association and is a Board Approved LPC Supervisor in the State of Texas, offering therapy and career counseling services
First established in 1998, LocateADoc.com's main objective is to assist individuals in locating a local doctor that will best suit specific medical needs. Prospective clients and patients may connect to more than 150,000 doctors in various specialties including Cosmetic, Bariatric, IVF, Hair Restoration, Lasik and Cosmetic Dentistry. LocateADoc.com's medical staff writers provide in depth medical education to help individuals make well-informed decisions regarding elective procedures, physicians, and treatments.