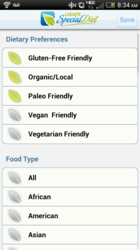 "With the new additions, finding Paleo or Vegan Food and Drink Options on-the-go just got a lot easier."
Austin, Texas (PRWEB) June 25, 2013
Locate Special Diet, the website and location-based mobile app that helps people find food and drink options that match their specific diet preferences or restrictions has cooked up some new mobile offerings. The popular mobile app has recently added vegan-friendly and paleo-friendly diet preferences to its existing lineup, which already includes; gluten-free, vegetarian and organic or locally grown foods. This means Americans following the paleolithic or primal lifestyle, those who are vegan or even those with Celiac Disease can easily identify even more businesses throughout the country that cater to their particular lifestyle – all from the comfort of home or while on-the-go.
Additionally launching on the new version is the Dining Out Advice Guide – complete with helpful Paleo, Gluten-Free and Vegan Tip Sheets. The Tip Sheets offer advice on effective ways to order and provide sample questions to ask your wait staff – These tips are destined to make ordering off regular menus a piece of cake at any restaurant!
"We are very excited about the new addition of paleo and vegan to the Locate Special Diet apps and website, as well as our mobile Dining Out Advice Guide. We want to make it easy for others to locate food and drink options nearby that match a variety of lifestyle preferences, and provide helpful tips people can use to make any meal more special-diet friendly. With this new update, we are reaching a new demographic and we're thrilled to have this opportunity to assist this growing segment of the market," says Locate Special Diet Founder, Jessica Meyer.
With the goal of providing the most reliable special diet search experience, Locate Special Diet allows users to search for restaurants, grocery stores and bars that serve gluten-free, vegetarian, vegan, paleo, organic or locally grown menu options. Users can narrow down their search by location, diet preference or type of food. They can also use any combination of diet preference to meet the needs of themselves or a group of people. Once a user creates a free account and customizes their location and preferred diet preference, their information is saved for future uses. Users can then search and submit local businesses, submit tips, and add tips and businesses to their favorites list.
Locate Special Diet was created by nutritionist and popular food blogger, Jessica Meyer, whose ATX Gluten-Free food blog has thousands of faithful readers. Meyer's idea for the website and app evolved from her own struggles to identify restaurants that could cater to her gluten-free dietary restrictions. Since it's launch, Locate Special Diet has continued to add thousands of food-based businesses and help users throughout the United States.
Locate Special Diet is a unique website and mobile app that helps people find food and drink options nearby that match specific dietary lifestyles; including gluten-free, vegetarian, vegan, paleo and organic nutritional needs. The free website and mobile app (iPhone, Android) is currently available in over 40 U.S. cities, with more added weekly. Locate Special Diet is the brainchild of nutritionist and food blogger, Jessica Meyer who has received critical acclaim from Zagat, the National Foundation of Celiac Awareness, the Austin American-Statesman, the Austin Chronicle and HealthCastle.com. For more information about Locate Special Diet, call (512) 809-0859 or visit http://www.LocateSpecialDiet.com. For press inquiries or interview requests, email Jess(at)LocateSpecialDiet(dot)com.