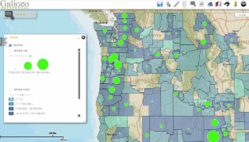 New York, NY (PRWEB) September 12, 2012
Sales force optimization is a continual process heavily influenced by geographic dimensions, which are continually changing. One of the many value propositions that Location Analytics provides to organizations is to dynamically display customers and prospects on a map, along with the sales territories, Business Intelligence and other operational data. The data can then be more quickly queried and analyzed allowing sales management to make more informed territory decisions and sales reps to manage their activities more effectively.
Attendees can learn more in this Webinar entitled "The benefits of adding Location analytics to Sales Force Optimization".
When
Thursday, September 27th
12:00 Pacific / 3:00pm Eastern
Who
Patrick Hayes, Managing Director
Timothy Morrissey, Senior Consultant
Where
Those who are interested in attending this Webinar can register at: http://www.galigeo.com/en/page/inv/Webinar-registration.html
Why
Attendees will learn: how the integration of location analytics and maps into CRM facilitates:

Speedy adjustments in sales resource allocation and planning
Improvements in the number of visits by sale representatives
Improvements in travel time management, and a reduction in travel costs
More evenly balanced coverage to existing customers and potential prospects
More effective management of overall compensation costs
All attendees will receive a free complimentary copy of the new white paper "Sales Force Optimization – A Location Analytics Perspective".
About Galigeo
Galigeo provides innovative location intelligence solutions for superior business analytics. Galigeo software connects directly to enterprise applications, maps large-scale datasets and applies spatial processing to enhance data visualization, reporting and predictive analytics. Our solutions are focused on improving Sales Territory Management, Trade Areas Analysis and Resource Allocation. Galigeo is trusted by some of the world's largest companies and governmental organizations.
For more information about Galigeo, please visit http://www.galigeo.com