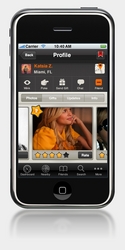 gathers both Web innovators disrupting media and technology and also executives successfully navigating disruption to talk about turning change into opportunity
Miami, FL (Vocus) May 20, 2010
Zila Networks, a VC funded mobile application developer, had it's soft launch of Friends Around, a fully featured, mobile only social network for the iPhone platform that changes the way people communicate and entire communities interact, on April 9th, 2010. Since it's soft launch, just over one month ago, it has been already downloaded 150,000 times, well surpassing its target expectations.
To celebrate it's official launch, Friends Around is hosting a booth at the TechCrunch Disrupt conference in New York City which is taking place May 24 - May 26. Participating in this event which "gathers both Web innovators disrupting media and technology and also executives successfully navigating disruption to talk about turning change into opportunity" as noted on the event site, is a critical move for the startup's next phase of business.
What Friends Around Provides Users:
Friends Around is a location based mobile application for interacting with friends 24/7 across social networks, without being tied to a computer. Users benefit from free group chat for easy interaction with multiple friends, open profiles for full access and no limits on who you can meet, and rewards for active participation that elevates your social standing within the Friends Around community.
Key Friends Around benefits include:
Cross Network Integration + LBS Aggregator: With the ability to check in using foursquare and the convenience to share status on Twitter and Facebook, Friends Around users have it all in one place. Future versions will include technologies currently pending patent that will make it even easier for people to connect.
Group Chats: Friends Around enables free group chat with multiple friends at once on your mobile phone, making it easy to connect, make plans, or gossip about your favorite TV shows, without having to balance different conversations. All chats, both individual and group, remain active to allow users to come back to the same conversation at a later date.
Open Profiles: Users are free to browse, rank photos, check status updates or send virtual gifts to anyone in the 'Friends Around' community. There are several easy and fun ways to connect with people, from sending a simple wink to a virtual gift. The app also allows you to see who has visited your profile, putting an end to internet lurking. Privacy options are available that restrict others from being able to locate, chat or rate your pictures.
Geo Location Search: Friends Around uses the iPhone's GPS function to identify nearby users on an interactive Google map. You can also search by name to find existing friends in the global Friends Around community or add friends from your existing social networks, including Facebook and Twitter.
Social Gaming: Points are rewarded to users who log in at least once a day, share their Friends Around status update across Facebook and Twitter profiles or to those that receive a high rankings on their photos by others.
Virtual Gifts: Points give you a virtual Friends Around currency called "FAMES" that can be used to purchase virtual gifts to send to other users and, eventually, branded virtual gifts will also be available. The more FAMES you receive, the higher your personal rating climbs, allowing you to rise to the top of the local or global Friends Around community.
Quotes
Attributed to Egor Lavrov, Co-Founder
"Friends Around is the social network that keeps you connected to your community, whether you want to meet people, keep up with friends, share across networks, stay connected to your favorite places and brands. Soon our new technologies will be incorporated, which are currently pending patent, and users plus brands will benefit even more from these features. We are very excited to exhibiting all this at the TechCrunch Disrupt conference."
Technical Requirements
The Friends Around application is currently available to iPhone, iPod Touch, and iPad users in English, Spanish, Portuguese, German and Russian. Coming soon to other platforms and languages.
Relevant Links
Zila Networks homepage
Friends Around homepage
Friends Around iPhone App at Apple Store
Friends Around Blog
Twitter @FriendsAround
About Zila Networks
Zila Networks is a mobile application development company formed by a group of dynamic, talented, young people who are envisioning the future of social networking as a new way of moving users from virtual to real life experiences. Zila Networks is based in Miami, Florida.
# # #