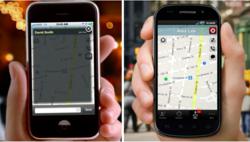 I don't think I've seen an easier method than Mapfia - Kevin C. Tofel, GigaOM
New York, New York (PRWEB) August 30, 2012
Mapfia the creators of a new and innovative way to share location via smartphones, today announced the release of its newest app to users in the UK, India, Brazil, China, Japan and Taiwan, in addition to the US and Canada where the app is already available. Mapfia is an application available on iPhone and Android phones that allows users to securely share their location with friends and contacts via free "map calls". When user calls another Mapfia user and the call is answered, user can instantly see each other's real-time location on a map. Because Mapfia uses a direct connection to create the map data, it is a secure and private way to share location data on a one-to-one basis.
Having a device know exactly where you are has often led to privacy concerns for some users, however Mapfia is harnessing geo-locating technology to allow smartphone owners to locate their contacts in real time, while maintaining privacy.
Using Mapfia is as simple as opening your contacts and pressing the call button. As long as the person you are calling also has Mapfia installed, as soon as they answer, GPS technology pinpoints that person on a map in real-time. Their location is shown until either party disconnects the call. The benefit of this approach over current location sharing apps is that users only allow access to their location for the duration of the call, rather than indefinitely.
Language Support:
English, Portuguese, Japanese, Simplified Chinese and Traditional Chinese.
Pricing and Availability:
Mapfia 1.2.0 is free and available in the U.S. & Canada, UK, Brazil, India, China, Japan and Taiwan.
Webiste: http://www.mapfia.com
YouTube: http://youtu.be/vNAOdjqtWo8
iOS Donwload: http://itunes.apple.com/us/app/mapfia-location-sharing-app/id530029108?ls=1&mt=8
Google Play Download: https://play.google.com/store/apps/details?id=com.mapfia.android
Tech writers are already seeing the potential of Mapfia:
"Need to share your location…I don't think I've seen an easier method than Mapfia" - Kevin C. Tofel, GigaOM
"As check-ins and similar features become a more frequent feature of social media…Mapfia is taking the initiative to offer users more control over their data." - Springwise.com
About Mapfia
Mapfia is a free location sharing service that lets you easily and securely share your location with your contacts. Mapfia was founded by a team of Stanford engineers who were frustrated with shouting on the phone to give directions or entering lengthy addresses into GPS systems while driving.