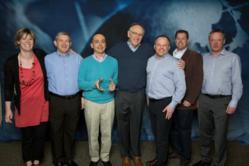 We are grateful for the acknowledgment from Jack Dangermond and the Location Analytics teams at Esri who understand Galigeo's breakthroughs in the emerging Location Analytics global market
New York, NY (PRWEB) April 24, 2013
Galigeo, the worldwide expert of Location Analytics is proud to announce it has been awarded Esri's Outstanding Partner for 2013 in the Location Analytics category. Galigeo is the sole winner in the Location Analytics for demonstrating practical and innovative solutions. Partners were nominated by various Esri staff and distributors.
Receiving the Location Analytics award distinguishes Galigeo's portfolio of solutions and demonstrates how Galigeo's Location Analytics platform uses Esri's ArcGIS services and content to build powerful solutions combining geography with core business processes, such as marketing and sales. For example, Galigeo software solutions enable retailers and organizations with field sales forces to integrate location applications with performance management, reporting, predictive analytics and campaign management solutions to optimize marketing operations and increase sales. "This award recognizes Galigeo's Location Intelligence & Analytics platform, the underlying Esri components and resulting high-added value customer applications. It has taken years to achieve this level of experience and excellence in Location Analytics. This reflects on our organization's enduring commitment to deliver, with Esri, outstanding software solutions to assist companies in making complex location-dependent business decisions" summarizes Christian Tapia-Stocker, Galigeo's CEO.
Galigeo is an open Location Analytics software platform solution capable of seamlessly integrating geo-spatial and business data of all types (transactional, operational, analytical and aggregated) from small or large databases. The award represents an important recognition of Galigeo's efforts by the GIS industry leader. "We are grateful for the acknowledgment from Jack Dangermond and the Location Analytics teams at Esri who understand Galigeo's breakthroughs in the emerging Location Analytics global market," said Tapia-Stocker.
Galigeo has developed a strong expertise in integrating GIS with business analytics that delivers value to organizations across all industries and public sector, helping them improve analysis and decision-making and realize better outcomes," said Josh Lewis, Director of the Esri Partner Network. "We congratulate them on this well-deserved award as a market leader with innovative solutions for location intelligence and analytics."
About Galigeo
Galigeo provides innovative location intelligence solutions for superior business analytics. Galigeo software connects directly to enterprise applications, maps large-scale datasets and applies spatial processing to enhance data visualization, reporting and predictive analytics. Our solutions are focused on improving business outcomes. Galigeo customers use the solution to improve Sales Territory Management, Trade Areas Analysis and Resource Allocation, among the many other use cases. Galigeo is trusted by some of the world's largest companies and governmental organizations. For more information about Galigeo, please visit http://www.galigeo.com.