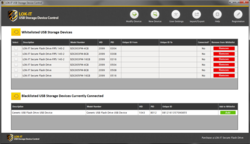 Using LOK-IT USB drives along with the software will absolutely reduce an organizations data breach risk. No question about it.
Deerfield Beach, Florida (PRWEB) June 14, 2013
In an effort to help organizations even further reduce the risk of costly data breaches, the LOK-IT USB Storage Device Control software is now available for free. The software prohibits use of USB mass storage devices that are not on its Whitelist.
Ponemon Institute research has shown that the leading cause of data breach is due to employee negligence. Employee negligence, which includes the loss or theft of unencrypted data, accounts for 46% of data breaches in healthcare organizations and 39% of data breaches across all types of organizations.
By default, all LOK-IT Secure Flash Drive models are whitelisted. Because all data stored to LOK-IT is encrypted and not accessible without correct PIN entry via its onboard PIN-pad, loss of a LOK-IT drive would not be considered a data breach or subject o HIPAA penalties.
"Frequently, our customers tell us that they wish they could ensure that employees only saved portable data to LOK-IT. Although enterprise endpoint solutions are available in the marketplace, we wanted to provide a simple software that they could instantly implement and eliminate the possibility of an employee negligently saving confidential data to a non-secure USB flash drive," stated John Tate, Executive Vice President at Systematic Development Group.
The Free Edition of LOK-IT USB Storage Device Control does not allow the Whitelist to be modified, so only LOK-IT Secure Flash Drives can be used. The Pro Edition provides the ability to add, remove and modify Whitelist devices, as well as the ability to import or export a Whitelist. At this time, even the Pro Edition is available to LOK-IT customers for no charge.
"Using LOK-IT USB drives along with the software will absolutely reduce an organizations data breach risk. No question about it," Tate continued. "This is something that any organization can implement and within a week have reduced their liability by potentially millions of dollars."
The most recent statistics from the Ponemon Institute state that the average cost to an organization from a data breach is $5.5 million.
"Today it's conceivably not a matter of if a university or healthcare organization will experience a cyber-attack or a data breach, it's more a question of when, how costly and how embarrassing it will prove to be. LOK-IT is one of the most effective ways that an organization can limit their portable data security risk," confirmed Christine Marciano, CEO of Cyber Data Risk Managers.
Any organization that would like to utilize LOK-IT USB Storage Device Control can download the Free Edition from CNET's Download.com site. The software has been ranked as one of the most popular in Corporate Security since its release.
About Systematic Development Group
SDG is the developer, manufacturer and distributor of the LOK-IT Secure Flash Drive. LOK-IT protects all contents with 256-bit AES hardware encryption and provides the means for authentication via an onboard PIN-pad, utilizing patents pending DataLock® technology from ClevX. LOK-IT is completely Operating System independent, working with any O/S including Windows, Mac, Linux, Android, Chrome, Symbian, and even embedded systems found in office equipment and medical devices.
LOK-IT is FIPS 140-2 Level 3 certified and is the preferred choice to secure portable data for large enterprises, healthcare organizations, government agencies and armed forces worldwide. Videos and information about both the LOK-IT Secure Flash Drive and LOK-IT USB Storage Device Control on the company website http://www.LOK-IT.net.