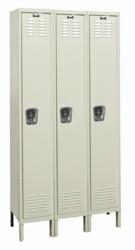 It is a pleasure working with A Plus Warehouse customers. They truly are the best industrial buyers I have ever dealt with. They know greatness
Boston,MA (PRWEB) December 16, 2011
Chris Carroll has won A Plus Warehouse's prestigious President's Circle award for outstanding work in selling lockers. When Mr. Carroll received the award he is quoted as saying "It is a pleasure working with A Plus Warehouse customers. They truly are the best industrial buyers I have ever dealt with. It is natural for me to provide them lockers as I work so well with A Plus Warehouse's various vendors". A Plus Warehouse realizes that a dealer is never better than the sales staff employed. For this reason, great service is publicly acknowledged.
Having a great product offering is key to A Plus Warehouse, and there are some locker items that bear mentioning. The first line to mention is the Rhino line. Here, Chris also has a quote that is always laughed about in the office. "While many lockers make a bling bling sound when tapped, the Rhino makes a glung glung sound". Rhino lockers are made of a heavier duty metal than the typical corridor locker, and are shipped all welded.
A Plus Warehouse provides lockers from the very best manufacturers in the business. These manufacturers include but are not limited to Hallowell List, Penco, Republic, Lyon Work Space, Edsal, and Tennsco. Each of these vendors produce products that A Plus Warehouse distributes on a nationwide basis.
Having worked at A Plus Warehouse over six years , Chris understands the purpose of an industrial distributor. The task of A Plus Warehouse and the goal is to provide quality products to industrial customers nationwide and in Canada with a compelling value proposition. When customers come to http://www.apluswhs.com they will be greeted with easy to read and informative content that makes the ordering process painless. A Plus Warehouse's page provides 800 numbers for calling and faxing as well as social media buttons and the classical contact button.
Customers also get access to great sales people who are ready to help with your requirements as well. The final piece of the puzzle is fulfillment. A Plus Warehouse utilizes strategically placed warehouses to speed product to customers in all 50 states. By keeping an eye on the economic order quantity and production lead times , A Plus Warehouse does a great job of keeping popular items such as storage cabinets and lockers in stock.
Give A Plus Warehouse a call and experience the customer service experience that is A Plus Warehouse
###