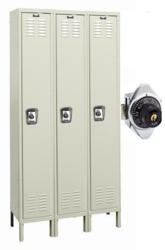 Boston, MA (PRWEB) June 27, 2013
A Plus Warehouse is happy to add yet another item to their ever growing collection. Lockers are an important product that many customers need. A Plus Warehouse is the best place to purchase these lockers. A Plus Warehouse understands how important lockers are to customers. This reason is why the company is offering a new line of lockers. A Plus Warehouse is proud to announce Lock Masters.
The company refers to this new line as Lock Masters because they are built in combination or key locks. Lockers such as these are popular school lockers as well. A Plus Warehouse Lockmaster lines adds convenience and makes the job of ordering lockers much easier. Not every lock fits every locker, so it is easy for a customer to make a mistake. This locker takes away the possibility of that problem. For added convenience, this locker comes preassembled. However, if a customer wishes to save money by ordering unassembled, the company can do that as well.
The Lockmaster line includes single tier, double tier, and triple tier. These are all great options and serve different purposes. A Plus Warehouse suggests single tier lockers for schools. These are the perfect school lockers. Single tier lockers are great for storing cloths and personal items. Kids need to store items such as back packs and jackets in their lockers, so this is clearly the best option. Double tier lockers are ideal for gym locker rooms. Finally a customer can order a triple tier locker. Triple Tier lockers are great for dense storage of personal items such as purses and books.
The Digitech Electronic Access Lockers are similar to the Lockmaster line. These type of lockers are great for health club use. The locks are also programmed by the user. Just as the Lockmasters, these lockers are assembled or unassembled to save money.
Now that future customers are aware of the new Lockmaster line, the company would like to remain customers that A Plus Warehouse also distributes many other great lockers. These lockers include but are not limited to inexpensive lockers, premier lockers, box lockers, laptop lockers any many more. All A Plus Warehouse lockers are high quality. A customer will never be dissatisfied.
A Plus Warehouse is the operator of http://www.apluswhs.com and distributes materials handling and storage equipment nationwide and throughout Canada. The sales staff at A Plus Warehouse is available at 800-209-8798. A Plus Warehouse has been in constant operation since 1996.