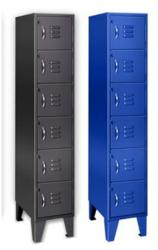 Rainbow Lockers Are Great. Where Else Can You Order A Black Locker
Dallas,TX (PRWEB) June 08, 2013
Historically lockers have been available in only gray and tan. A Plus Warehouse was never especially pleased about this as the company prefers to offer customers options. A Plus Warehouse doubled the colors through the Hallowell List line with the additional colors of marine blue, green mist, and maroon. Although that was a start to color options for lockers, there was one more step to make.
The company that produces BigBlue cabinets and work benches in a rainbow of colors also started manufacturing a fine line of all welded lockers. These rainbow lockers are available in 13 standard colors and an infinite number of special colors at no additional cost in quantities over 50 pieces.
According to Ed Stairman, "Black Is The New Gray. Black Lockers at A Plus Warehouse will change the world". Rainbow lockers are available in a few different configurations:
(1) Single Tier - Excellent for hanging cloths
(2) Double Tier - Great for book bags
(3) Box Lockers – For books
(4) Stackable Lockers – Big Double tier units that can be separated
All of these lockers are shipped all welded and ready to use, and all have integrated legs. Customers have counted on A Plus Warehouse for quality lockers since 1996 and the addition of rainbow lockers helps even more.
There are several locker styles A Plus Warehouse distributes – and it makes sense to describe them:
(1) Slopemaster Lockers - Metal Lockers with slope tops and foot plates. Used in gyms and where dust is not desired
(2) Lockmaster Lockers – School Lockers that include built in combination or key locks
(3) Rhino Lockers – Heavy duty and extra large lockers with a 24x24 or 24 x 36 footprint. A Plus Warehouse recently added a vented Rhino Locker. Rhino lokcers are made by the same company that produces the A Plus Warehouse Rainbow Lockers
(4) Football Lockers – Giant open lockers
(5) Digitech Lockers – Lockers with electronic locks
(6) Stainless Steel Lockers – The choice for food service operations.
A Plus Warehouse ships many lockers from stock. The company maintains reasonable lead times even during summer locker buying season. In July and August , manufacturers can be swamped with school orders. A Plus Warehouse has worked out a way to smooth out production over the year to make for reliable availability in the summer. When possible, customers should consider buying lockers in 3 wide modules and save money on the center dividers. A Plus Warehouse sells most lockers as single or three columns wide.
Customers are encouraged to call 800-209-8798 with any locker questions