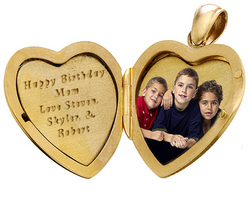 The very first interactive locket designer program in the world.
Staten Island, N.Y. (PRWEB) November 7, 2010
With Christmas about a month and half away, many shoppers already have begun logging onto PicturesOnGold.com planning in advance to impress their special lady with something extraordinary.
"History teaches us that tangible expressions of love -- most often in the form of jewelry -- are as much a part of life as love itself," said Daniel Schifter, president of PicturesOnGold.com, the world's premier online destination for the very best in and other fine jewelry. "Our lockets come in 14k Gold, Sterling Silver, White Gold, Platinum and with and without diamonds. They also come in a variety of shapes such as hearts, rounds, oval and dog tags. Our lockets make a particularly unique gift for a special occasion such as Christmas or Hanukkah because our customers literally can design the locket themselves from start to finish right online, and have their own photos permanently lasered into the jewelry with astonishing clarity. The final result can be see right in front of there eyes with our new state of the art locket designer and is guaranteed to last forever."
The "interactive locket designer" feature at PicturesOnGold.com allows customers to select from thousands of exterior designs for the customization of the locket, laser the photos on the inside, engrave a special message, and even personalize it with a diamond or birthstone and a mockup of the finished product will be seen right before there eyes.
"We take the guesswork out of searching for a place to shrink down your photo within the locket; we do it for you," Schifter said.
The entire process is fast, easy and designed to fit any budget.
"Your purchase of a locket from http://www.PicturesOnGold.com with a personal photo that's lasered into it for eternity, will carry the same message of love as the most extravagant gifts the world has to offer: 'I love you, and I want the world to know I love you,'" Schifter said.
To make a purchase, Shoppers in proximity to Staten Island, N.Y., may choose to visit Casale Jewelers at 1639 Richmond Rd., the world's only authorized PicturesOnGold retail establishment.
# # #