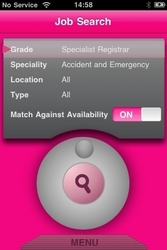 We believe this is a great innovation which will improve the ability of our locum doctors to track job searches, making it faster, more efficient and more convenient. It will also benefit our NHS and private clients as it will help fill vacancies faster
Yorkshire, UK (PRWeb UK) May 7, 2010
JCJ Locums, a market leading medical recruitment agency and part of HCL plc, has launched a free iPhone application (app) to enable locum doctors to search and apply for jobs while on the move.
The locum doctors job search app was created in recognition of the fact that busy medical professionals are seeking faster and more efficient ways to gain access to the latest job opportunities. The iPhone app enables doctors to track new vacancies offered by JCJ Locums in their grade, specialty and location. They simply have to register their name, GMC number, discipline, area and availability and the app will do all the work.
As well as being able to save and automatically update job searches, locum doctors will be able to keep their JCJ consultant informed of their current availability through an in-built calendar function. The app's search function will then match jobs in their medical specialty and area to their availability and alert the doctors, who can apply for the job or call JCJ Locums at the touch of a button.
Kirsten Simcoe, MD of JCJ Locums, explains:
"JCJ Locums is committed not only to finding the best locum jobs for doctors, but to making the process of application as quick and easy as possible.
"Locum doctors are very busy and time poor professionals, so we've harnessed the latest technology to bring jobs in their preferred regions and specialties directly to their bags and pockets.
"We believe this is a great innovation which will improve the ability of our locum doctors to track job searches, making it faster, more efficient and more convenient. It will also benefit our NHS and private clients as it will help fill vacancies faster," continues Simcoe.
Ends
Screen shots have been provided. For further details please contact Helen Tarbet on 020 7451 1451.
About JCJ Locums
JCJ Locums is a market leading medical recruitment agency supplying doctors to the NHS and private organisations across the UK on both a locum and a permanent basis. The Company finds jobs for doctors of all grades and specialties including Paediatrics and Neonates, Psychiatry, Accident and Emergency, Obstetrics and Gynaecology and General Practice. JCJ Locums is a part of HCL plc, a leading health and social care staffing agency.
# # #