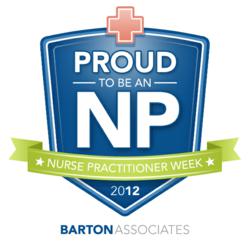 Throughout NP Week, Barton Associates will publish original content to its Facebook Page, blog, and other social media properties that celebrates all things NP
Boston, MA (PRWEB) November 14, 2012
Barton Associates, a leading national locum tenens agency, celebrates Nurse Practitioner Week 2012 by announcing the release of original nurse practitioner focused content.
Barton Associates is excited to celebrate the contributions nurse practitioners make to the healthcare field during Nurse Practitioner Week 2012. Throughout NP Week, Barton Associates will publish original content to its Facebook Page, blog, and other social media properties that celebrates all things NP, including graphics, articles, and other resources.
As a leading national locum tenens nurse practitioner recruiting company, Barton Associates is committed to supporting the nurse practitioner profession, which is a growing and critical component of the U.S. healthcare system.
This dramatic growth in demand for NPs coincides with an increase in the number of practicing nurse practitioners. There are 157,000 nurse practitioners practicing in the United States, which represents a 40% increase since 2007. In light of the physician shortage, nurse practitioners are expected to play an increasingly important role in the healthcare industry. Across the nation, more schools are offering NP programs, more companies are hiring NPs, and more patients are choosing NPs as their primary care provider.
In the last year, Barton Associates has experienced a significant increase in demand for locum tenens nurse practitioners, in both primary care and other medical specialties, including internal medicine, pediatrics, hospitalist, emergency medicine, dermatology, anesthesiology, surgery, and many others. In fact, nurse practitioner placement activity at Barton Associates more than doubled between Q3 2011 and Q3 2012. Barton Associates expects this growth in demand to continue as healthcare organizations and practices struggle to meet increased demand for patient services resulting from the implementation of the Affordable Care Act (ACA), demographic shifts in the United States, and other factors.
Barton Associates is committed to being the leading resource for locum tenens nurse practitioners as well as the companies, healthcare organizations, and practices that rely on them to provide high-quality patient care.
To learn more about Barton Associates locum tenens staffing solutions, please visit http://www.bartonassociates.com.
Barton Associates is a leading national locum tenens staffing company serving physicians, nurse practitioners, hospitals, medical practices, and companies across the U.S. from national staffing offices in Massachusetts, Connecticut, and Florida.