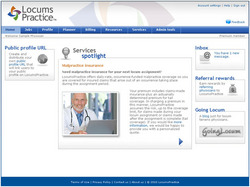 "We wanted to offer all locum physicians a new online technology solution to help them easily manage their locum activities in one place."
Alpharetta, GA (PRWEB) September 9, 2010
Jackson Healthcare announced today the launch of LocumsPractice, a new online technology solution that enables locum tenens physicians to directly manage the locum process from contact through contract. The solution, the first of its kind on the market, allows physicians to control their own work assignments and availability, manage day-to-day practice administration, and maximize their revenue by using LocumsPractice to facilitate the process. The technology automates many of the tasks locum physicians perform every day including: finding, scheduling and contracting for locum assignments, managing and sharing physician credentials, and creating timesheets, expenses and invoices. In addition, LocumsPractice provides typical backend services needed by physicians to get them ready to work a locum assignment including: travel, transportation and housing coordination, licensing, privileging and credentials verification. LocumsPractice also offers locums the ability to purchase daily-rate, occurrence-funded malpractice insurance so they only pay for coverage on the days they work, a real advantage in coverage and a major savings in premiums.
"We know that some locum physicians prefer to work with locum staffing agencies and some prefer to work on their own," said Karyn Mullins, LocumsPractice general manager. "We wanted to offer all locum physicians a new online technology solution to help them easily manage their locum activities in one place. We can assist physicians in finding their next assignment either directly with healthcare facilities or through agencies. After finding and contracting for an assignment, LocumsPractice provides everything physicians need to work locums including managing and maintaining their credentials and tracking their time, expenses and invoices."
LocumsPractice offers Basic Memberships to the site for free, and for a limited time, Premium Memberships are being offered at a very special introductory rate of $9.95 per month or $99.50 per year.
In addition to physician memberships, LocumsPractice also offers subscriptions to the site for healthcare facilities and agencies who want access to experienced locum physicians looking for locum jobs. The site offers facilities and agencies the opportunity to create and manage an unlimited number of requisitions, search for locum physician profiles in the LocumsPractice database, check physician availability to work, and negotiate an unlimited number of contracts with physicians directly through the site. Once a physician has accepted an offer and signed a contract, LocumsPractice can assist facilities and agencies with getting the physician ready to work as quickly as possible. LocumsPractice offers cost-effective locum assignment services, such as malpractice insurance, credentials verification, and licensing and privileging assistance to facilitate the on-boarding process.
About LocumsPractice
LocumsPractice is a product of Jackson Healthcare. The mission of LocumsPractice is to provide everything physicians need to streamline and efficiently manage their locum assignments. LocumsPractice also provides healthcare facilities and physician staffing agencies with the resources to find, schedule, and onboard physicians for available locum assignments. For more information on LocumsPractice please visit our website or contact us at 877-230-9615.
# # #