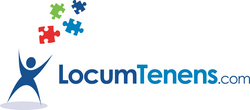 Lisa knows virtually everything there is to know about our business, and her actions have consistently and continually portray her desire to do what is in the best interest of the company and all associates
Alpharetta, GA (Vocus) February 26, 2010
LocumTenens.com has named Lisa Kaeck as Executive Vice President, a promotion that recognizes the vast expertise Kaeck has developed in her 15 years of service at LocumTenens.com.
A founding partner of LocumTenens.com, Kaeck has more than 20 years of sales and marketing experience, and has worked in the medical recruiting industry for 17 years. Previously Kaeck managed the anesthesia division at LocumTenens.com and was directly involved in development and implementation of company objectives, policies and procedures, as well as strategic planning.
Recognized as a leader of the company, Kaeck's new role moves her out of day-to-day management of the anesthesia team and into a corporate position where she will have increased leadership of operations and work closely with the company president, R. Shane Jackson.
"Lisa knows virtually everything there is to know about our business, and her actions have consistently and continually portray her desire to do what is in the best interest of the company and all associates," said Jackson.
"This is a very key promotion for LocumTenens.com. Allowing Lisa to focus her expertise and energies on overall company objectives and goals will provide an outstanding value to LocumTenens.com, and will ultimately help the company succeed and grow in the years to come."
About LocumTenens.com
Founded in 1995, LocumTenens.com is a full-service physician recruitment firm specializing in primary care jobs, anesthesiology jobs, psychiatry jobs, radiology jobs, surgery jobs, and CRNA jobs with U.S. hospitals, medical groups and community health centers. LocumTenens.com operates an internet job board with direct access to thousands of jobs — in all specialties — posted directly by facilities and agencies nationwide. LocumTenens.com is part of the Jackson Healthcare family of companies. To learn more, visit http://www.locumtenens.com/welcome.
Media Contact:
Meigan Manis, Senior Public Relations & New Media Specialist
Phone: (678) 992-1276
###