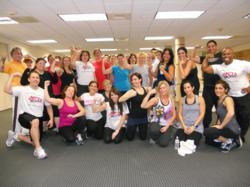 "There is a strong need for a program to lead our communities with the truth on nutrition and exercise to live a happier and healthier lifestyle. Without the guidance and coaching behind a program, the community stays stuck in that vicious cycle of not ge
Locust Valley, NY (PRWEB) October 10, 2012
It's common these days to see fitness programs and Long Island Gyms promise the world but then under-deliver with techniques or services. How can joining a gym solve health problems when all that is offered is shiny chrome machines and occasionally - never really enthusiastic- a hello from the front desk?
To make a difference in the health of the community, there needs to be a different approach.
Starting Sunday October 14th at 10am in the Grenville Baker Boys & Girls Club, the Get Fit Revolution is providing a new approach to burning 1,000 lbs of fat in 8 weeks...and it's free to all North Shore Residents.
The founders of the Meta Burn Fitness Studio in Locust Valley created this program with the Locust Valley Rotary Club for 2 very important reasons.
1. To reunite and re-energize the community to get back in shape and lose 1,000 lbs
2. To build an ongoing fund with the Locust Valley Rotary Club in order to provide for local Long Island Veterans who may be facing physical, financial, or mental challenges.
Rahz Slaughter expresses "There is a strong need for a program to lead our communities with the truth on nutrition and exercise to live a happier and healthier lifestyle. Without the guidance and coaching behind a program, the community stays stuck in that vicious cycle of not getting results. Give us 8 weeks and we will give you a new life"
This is something new that will make a difference in many lives. When local resident Matt Piancentini was asked what he thought about Get Fit, he stated "Get Fit is such a unique concept bringing the community together and providing the nutrition and exercise coaching. Most times it's just a walk for a fundraiser or pamphlets handed out, but Get Fit is going above and beyond in offering an 8 week Health Transformation for Free."
Get Fit is leaving no stone unturned by offering free Saturday morning fitness classes, free workout videos to do at home or in a gym, nutrition menus and guidelines, and a habit based weekly email newsletter to create 1 change at a time. All that is asked in return is to raise $50 per participant to help build the HOV Fund (Help Our Veterans) to support local veterans.
For more information on how you can join this 8 Week Get Fit program for free, visit http://www.GetFitLocustValley.com or call 516-203-4534.