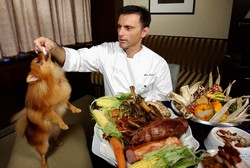 Our aim at Loews Hotels is to offer our guests a 'home away from home' whether they arrive on two legs or four
New York, NY (Vocus) October 20, 2009
Loews Hotels, the first national hotel brand to recognize the importance of pets in their guests' lives with its innovative "Loews Loves Pets" program, rolls out the red carpet for four-legged guests this holiday season with its "Houndly Holidays" package. Designed for canine and feline family members, the program features a special rate on a one-night stay, an in-room holiday meal for pets, Loews Loves Pets amenities, and a Bow Wowzer toy from West Paw Design®.
The package is available at 17 Loews Hotels throughout the U.S. and Canada from October 19, 2009 to January 10, 2010; prices vary by date and location. Examples of starting prices are $134 for the Loews Denver and Loews New Orleans hotels. Package prices are based on double occupancy and are subject to availability.
The Houndly Holiday menu items were specially developed by Loews Hotels Executive Chef Marc Ehrler, an award winning Master Chef from France, a country known for their fondness of pets. Festive menu items include Dog Nog, Turkey Rolls a la Pug, Spaniel Stuffing, Persian Pumpkin Pie, Lassie Latkes and more. A sampling of holiday recipes is listed below and can be found on Loews Hotels' Facebook page. Standard pet menu items are available at all Loews Hotels, but vary at each location. Most include bow wow burgers, chicken and rice and grilled filet for dogs. All menu items were approved by a licensed veterinarian.
"Our aim at Loews Hotels is to offer our guests a 'home away from home' whether they arrive on two legs or four," commented Jonathan Tisch, CEO of Loews Hotels and proud owner of Minnie a Maltipoo puppy. "For many, the holiday season means spending time and traveling with our loved ones. We designed this program to help make our guests and their pets feel especially welcome at our hotels."
Purr-fect Perks
As part of Loews Loves Pets program, all animals are "Very Important Pets" (VIPs). Each is welcomed with a Loews Loves Pets brochure, which includes a listing of pet services available at the hotel, including dog-walking routes and information on nearby veterinarians, pet shops, groomers, pet attractions, pet-friendly restaurants and other resources. Guests also receive a special amenity that includes pet placemats with food and water bowls, dog tags, treats, scoop bags and a "Do Not Disturb" sign that lets housekeeping know when a pet is in the room. Pet walking and pet sitting services are available through the hotels' concierge desks. Loews Hotels also offer a "Puppy Pager" service, which equips pet-owning guests with a pager or cell phone to allow hotel staff to contact them immediately if there is a pet-related emergency.
Loews turned to a licensed veterinarian to help develop pet room service menus, specially designed to provide proper nutrition to help pets deal with travel stress such as jet lag and altitude adjustments. Pet room service varies at each hotel; most include items such as roasted salmon for finicky felines and grilled filet and roasted chicken and rice for dogs. Selections of premium dry and canned pet foods are also available for in-room delivery.
Loews Hotels also loans its guests pet necessities such as dog and cat beds in different sizes, leashes and collars. Kitty litter boxes and litter, pooper-scoopers, and a selection of pet toys (such as rawhide bones, catnip and scratch poles) are also available for purchase.
To ensure that guest rooms are ready for non-pet owners, each hotel has established special cleaning procedures for pet stays, including the use of HEPA-filtered vacuums so that all traces of pet allergens are removed in preparation for the next guest.
Loews Hotels selected West Paw Design to supply the toys because the company creates products with minimal environmental impact by using nontoxic, organic or recyclable materials for all canine products. The Bow Wowzer toys are a perfect fit for dogs of all sizes and are strong enough to last through endless hours of fetch or rough housing.
Headquartered in New York City, Loews Hotels owns and/or operates 17 hotels and resorts in the U.S. and Canada. Located in major city centers and resort destinations from coast to coast, the Loews portfolio features one-of-a-kind properties that go beyond Four Diamond standards to delight guests with a supremely comfortable, uniquely local and vibrant travel experience. Loews boasts some of the industry's most innovative and successful travel programs, including Loews Loves Kids for families and Loews Loves Pets for discerning animals on the road. For reservations or more information on Loews Hotels, call 1-800-23-LOEWS or check http://www.loewshotels.com.
Follow Loews Hotels on Twitter at http://twitter.com/Loews_Hotels.
Fan us on Facebook at http://facebook.com/LoewsHotels.
**Houndly Holiday digital images available in high resolution format.
Loews Hotels Executive Chef Mark Ehrler's Recipes:
Please Note: These meals are treats and are not intended for daily consumption. Additionally, these meals should not be fed to pets with special dietary restrictions.
Thanksgiving
Turkey Rolls a la Pug
1 loaf uncooked bread dough or pizza dough
¼ cup turkey broth
1 to 2 teaspoons flour
¾ cup cooked turkey, cut up small
½ cup cooked vegetables
¼ teaspoon garlic powder
grated cheese
Roll out the dough and cut into 3 inch circles with cookie cutter. In a saucepan, combine the broth and flour, stirring until flour is dissolved and mixture thickens. Add the turkey, veggies, and garlic powder. Cook until mixture is heated through. Let cook a bit. Spoon 1 to 2 teaspoons of the turkey mixture onto each circle. Fold up the sides and pinch shut. Roll into a ball shape. Sprinkle or roll each ball with grated cheese. Arrange the balls on a cookie sheet. Cook in a preheated 375 degree oven for 10-15 minutes, until they are golden brown. Let cool.
Spaniel Stuffing
2 ¼ cups chicken stock
¼ cup white rice
4 tablespoons butter
2 cups fresh sliced mushrooms
2 cups diced celery
1 cup chopped onion
4 cups corn bread stuffing mix
1 tablespoon poultry seasoning
In a medium sized saucepan combine the chicken stock and the wild rice. Bring to a boil then reduce heat and let simmer until rice is tender. In a large skillet melt the butter. Add the butter. Add the mushrooms, celery and onion. Cook until vegetables are soft. In a large bowl mix the cornbread stuffing and poultry seasoning. Add the rice and the vegetables and mix well. More chicken stock can be added if stuffing is dry.
Persian Pumpkin Pie
1 medium sugar pumpkin
1 tablespoon vegetable oil
1 nine inch single crust pastry shell
½ teaspoon ground ginger
½ teaspoon ground cinnamon
1 teaspoon salt
4 eggs, lightly beaten
1 cup honey, warmed slightly
½ cup milk
½ cup heavy whipping cream
Cut pumpkins in half, and remove seeds. Lightly oil the cut surface. Place cut side down on a jelly roll pan lined with foil and lightly oiled. Baked at 325 degrees F until the flesh is tender when poked with a fork. Cool until just warm. Scrape the pumpkin flesh from the peel. Either mash, or puree in small batches in a blender.
In large bowl, blend together 2 cups pumpkin puree, spices, and salt. Beat in eggs, honey, milk, and cream. Pour filling into pie shell.
Bake at 400 degrees F for 50 to 55 minutes, or until a knife inserted 1 inch from edge of pie comes out clean. Cool on a wire rack.
Christmas
Dog Nog
1 Boneless/skinless Chicken Breast
4 Cups Water
1 Cup Flour
2 Whole Eggs, beaten
Pinch parsley (optional)
Boil chicken breast for about 1/2 an hour, and remove to cool. Add flour to chicken water. Beat out lumps. Add pre-beaten eggs. Cook on low heat until it's done thickening. Pulverise chicken in food processor and add to flour/egg gravy. May need to add more water.
Hanukkah
Lassie Latkes
9 sweet potatoes
½ cup honey
3 tablespoons grated fresh ginger
2 tablespoons walnut oil
1 teaspoon ground cardamom
½ teaspoon ground black pepper
Preheat oven to 400F degrees. In a large bowl, toss together the sweet potatoes, honey, ginger, walnut oil, cardamom, and pepper. Transfer to a large cast iron frying pan. Bake for 20 minutes in the preheated oven. Stir the potatoes to expose the pieces from the bottom of the pan. Bake for another 20 minutes, or until the sweet potatoes are tender and caramelized on the outside.
Contact:
Michelle Colligan
Redpoint Marketing PR, Inc.
colligan (at) redpointpr (dot) com
(212) 229-0119
###