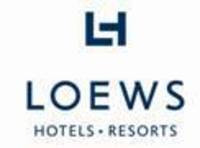 This is an unbeatable opportunity for travelers to lock-in a great rate, simply by planning ahead. It is similar to buying airfare, people who book ahead get the best deals, and now they can get the same benefit at Loews Hotels
New York (Vocus) February 3, 2010
Now through December 31, 2010 Loews Hotels is rewarding travelers who book 45 days or more in advance with an Advance Purchase discount of 20 percent. The discount applies to business or leisure stays in all room categories at Loews 18 properties in the U.S. and Canada, including web exclusive rates on loewshotels.com. Advance Purchase reservations must be paid at time of booking, are non-refundable and cannot be changed.
The Advance Purchase discount is available online at http://www.loewshotels.com and by calling 1-800-23-LOEWS. The discount cannot be combined with any other promotional offers or rates and is not available at the Loews Hotels at Universal Orlando. Traditional reservations can still be made at rack rates with normal cancellation policies.
"This is an unbeatable opportunity for travelers to lock-in a great rate, simply by planning ahead. It is similar to buying airfare, people who book ahead get the best deals, and now they can get the same benefit at Loews Hotels," said Anthony Del Gaudio, VP of Global Distribution for Loews Hotels. "Whether they opt for the bayside luxury of Loews Coronado Bay in San Diego or the classic New York City experience of the Loews Regency Hotel, travelers who book early will enjoy Loews' signature Four Diamond and More experience at an unprecedented value."
Headquartered in New York City, Loews Hotels owns and/or operates 18 hotels and resorts in the U.S. and Canada. Located in major city centers and resort destinations from coast to coast, the Loews portfolio features one-of-a-kind properties that go beyond Four Diamond standards to delight guests with a supremely comfortable, uniquely local and vibrant travel experience. Loews boasts some of the industry's most innovative and successful travel programs, including Loews Loves Kids for families and Loews Loves Pets for discerning animals on the road. For reservations or more information on Loews Hotels, call 1-800-23-LOEWS or check http://www.loewshotels.com.
Follow Loews Hotels on Twitter at http://twitter.com/Loews_Hotels.
Fan us on Facebook at http://facebook.com/LoewsHotels.
Contact:
Emily Goldfischer
Loews Hotels
212-521-2833
Michelle Colligan
Redpoint Marketing PR, Inc.
212-229-0119
###