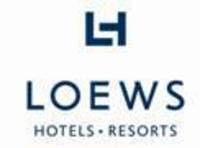 New York (Vocus) April 10, 2009
As part of its commitment to the environment, Loews Hotels encourages even its furriest guests to do their part in promoting responsible, sustainable consumption (literally). The new Loews "Grrreen Dog" package features a specially created "Dog Gone Green" room service meal, a veterinarian approved healthy feast which mixes locally grown ingredients from neighborhood farms with a lot of love. The "Grrreen Dog" package will launch on Earth Day (April 22, 2009) and features several additional earth-friendly components.
Available April 22 - September 5, 2009, "Grrreen Dog" package rates vary by hotel, starting at $119 per night. Package includes:

A one-night stay at one of Loews Hotels 17 properties for guests and their pet
"Dog Gone Green" room service meal with local ingredients (see recipe below)
A Loews Hotels 100 % organic cotton bandana made by Go Doggie Go Green™
A Zogoflex™ Huck, an environmentally-friendly toy by West Paw Design ®
Loews Hotels commissioned Go Doggie Go Green™ to create the custom 100 % organic cotton bandanas. Go Doggie Go Green™ products are made in America and are 100% organic - the cotton is washed (not bleached) and only environmentally friendly vegetable/plant base inks are used. More information on Go Doggie Go Green™ is available at http://www.GoDoggieGoGreen.com.
Loews Hotels selected West Paw Design to supply the toys because the company creates products with minimal environmental impact by using nontoxic, organic or recyclable materials for all canine products. The Huck toys are a perfect fit for dogs of all sizes and are strong enough to last through endless hours of fetch or rough housing. Made with nontoxic, durable and pliable material, the Huck can also be recycled. Its bright key lime green color assures that owners will not lose sight of their pet's new favorite toy, in the hotel room or the back yard.
Since the introduction of the Loews Loves Pets program nearly a decade ago, many VIPs (Very Important Pets) have made Loews Hotels their home away from home, enjoying the special treatment and privileges that are offered at all of the chain's properties in the U.S. and Canada. As part of the Loews Loves Pets program, each visiting VIP can travel in first-class comfort with gourmet room service, specialized bedding, a pet amenity and guest services designed to make pets and their owners feel right at home.
The Loews "Grrreen Dog" package is subject to availability and is bookable at 17 Loews Hotels in the U.S. and Canada. For more information or to book, call 1-800-23-LOEWS or visit http://www.loewshotels.com.
Photos available upon request
Headquartered in New York City, Loews Hotels owns and/or operates 17 hotels and resorts in the U.S. and Canada. Located in major city centers and resort destinations from coast to coast, the Loews portfolio features one-of-a-kind properties that go beyond Four Diamond standards to delight guests with a supremely comfortable, uniquely local and vibrant travel experience. Loews boasts some of the industry's most innovative and successful travel programs, including Loews Loves Kids for families and Loews Loves Pets for discerning animals on the road. For reservations or more information on Loews Hotels, call 1-800-23-LOEWS or check http://www.loewshotels.com.
Loews Loves Pets "Dog Gone Green" Recipe:
Loews Hotels Executive Chef Mark Ehrler's Recipe and Suggestions:
Take your pet friend to your local farmer's market, select the following ingredients, then stroll back home and prepare this delicious organic feast. Keeping in mind that we arrive at the Farmer's market with a shopping list, but always leave with unexpected exciting ingredients that are at the finest level of freshness for the season, unleashing our creative side which we can practice on our best friend...Happy seasonal cooking.
1 tbsp: Organic Olive oil
¼ cup: Organic diced Chicken breast diced or any protein available that day, including seafood
¼ cup: White Mushroom sliced or what the season has to offer
½ cup: Green peas or any other green available
1 loaf: Artisan's country bread. Cut one slice into small crouton according to the size of your friend.
Save the rest for yourself
¼: Cup of water (or chicken broth)
1: Teaspoon of Chopped parsley
¼: Cup of grated local Artisan's Cheese
Contact:
Emily Goldfischer
Loews Hotels
(212) 521-2833
egoldfischer (at) loewshotels.com
Michelle Colligan/Gabriella McNamara
Redpoint Marketing PR, Inc.
(212) 229-0119
colligan (at) redpointpr.com
mcnamara (at) redpointpr.com
###