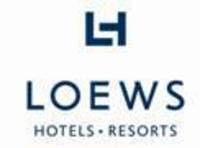 Loews Hotels is committed to being environmentally responsible and we look forward to joining the world for this monumental event
New York, NY (Vocus) March 20, 2009
"Lights on" is a vote for Global Warming, "Lights off" is a vote for Earth. March 28, 2009 at 8:30pm (local time), Loews Hotels will vote for "Earth," joining a world wide call to action to increase sustainability practices. All 17 Loews Hotels properties will power down select lights, equipment and machinery for one hour in honor of "Earth Hour." In celebration, Loews Hotels is inviting guests and locals to the hotels' bars and restaurants to try a Green Gin & Tonic specialty cocktail* and a menu of sustainably grown wines. All proceeds from cocktail sales will be donated to Loews Hotels' charity partner, the Modest Needs foundation.
"Loews Hotels is committed to being environmentally responsible and we look forward to joining the world for this monumental event," said Jonathan Tisch, Loews Hotels Chairman and CEO.
Earth Hour began in Sydney in 2007 as a local endeavor, when 2.2 million homes and businesses switched off their lights. Now a global sustainability movement, Earth Hour's 2009 goal is to recruit one billion people to turn off the lights. This effort will be presented to world leaders at the Global Climate Change conference later this year, which is to determine official government policies against global warming. To learn more about Earth Hour, visit http://www.earthhour.org.
Loews Hotels is an Energy Star Partner and the company continues to make steady, measured progress in improving environmental practices at all locations. Each Loews Hotel has a "Green Team" which seeks every reasonable opportunity to incorporate "green" standards into all aspects of Loews Hotels business. Some recent activities have included:

Implementing laundry waste water recycling programs
Installing power capacitor conditioners to utilize 100 percent of power required to operate pumps and motors
Installing variable frequency drive devices on large pumps and motors to lower electrical demand and consumption
Founded in 2002 by Dr. Keith P. Taylor as a "living tribute to human kindness," Modest Needs is a 501(c) 3 non-profit organization whose programs are funded entirely through the "small change" of individual donors. Modest Needs leverages the Internet's communication benefits by displaying applicant stories online and allowing donors to read and rate which ones are funded. The organization fields hundreds of requests each month from people who have no way to shoulder the financial burden posed by life's sudden emergencies: the unexpected car repair that keeps a single mother working; the cost of a license renewal that puts a skilled professional back on the job; the unusually large winter heating bill; or the co-payment for a cancer treatment.
Headquartered in New York City, Loews Hotels owns and/or operates 17 hotels and resorts in the U.S. and Canada. Located in major city centers and resort destinations from coast to coast, the Loews portfolio features one-of-a-kind properties that go beyond Four Diamond standards to delight guests with a supremely comfortable, uniquely local and vibrant travel experience. Loews boasts some of the industry's most innovative and successful travel programs, including Loews Loves Kids for families and Loews Loves Pets for discerning animals on the road. For reservations or more information on Loews Hotels, call 1-800-23-LOEWS or check http://www.loewshotels.com.
*Green Gin & Tonic recipe and Sustainable wine list:
Green Gin & Tonic
Ingredients:
.25 oz. Organic Lime Juice
2 Basil leaves
1 oz. Mighty Green Leaf Tea
2 oz. Botanical Hendrick's Gin
4 oz. Tonic
Instructions:
Muddle basil and lime juice
Add with all other ingredients in shaker
Shake and strain over ice
Garnish with lime on the side of the glass
Sustainable Wine Menu (by the glass):
Tattinger Brut Prestige
Tangent Sauvignon Blanc
Paraiso Chardonnay
Bridlewood Syrah
Trinchero Family Napa Cabernet
Contact:
Emily Goldfischer
Loews Hotels
212-521-2833
Michelle Colligan/Gabby McNamara
Redpoint Marketing PR, Inc.
212-229-0119
# # #