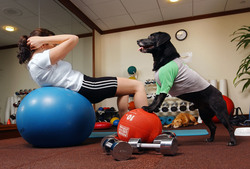 New York, NY (Vocus) January 20, 2010
Did Fido eat too many table scraps over the holidays? Is he more flab than fur these days? If so, don't despair, he's not alone. According to a 2008 study by the Association for Pet Obesity Prevention, 50% of dogs and cats in the U.S. are overweight or obese.
To kick-start a healthy new lifestyle for the new year for guests and their pets, Loews Hotels has created the Pumped-Up Pets package, which includes a deluxe room, workout tips for both the guest and their pet, a Zisc dog Frisbee, and a specially-created and veterinarian-approved "Scratch My Flat Belly" meal for pets. Studies show that people who diet and exercise with their pet stick to it, well, like a dog with a bone! In fact, research conducted by Northwestern Memorial Hospital revealed that more than 60% of people who began an eating and exercise program with their pets stuck to the program for a year.
The Pumped-Up Pets package, offered at 17 Loews Hotels throughout the U.S. and Canada, is available through May 1, 2010. Pricing starts at $124 per night and is subject to availability. Exercising and playing is as important for dogs as it is for humans, it offers a necessary mental and physical break and is a great stress reliever. The following work-out tips* illustrate how to safely and effectively exercise with your pet:

Frisbee: Throwing a Frisbee helps you build arm muscle, balance and flexibility. Your dog will benefit from the chase, stimulation and coordination required in catching the disc and returning it to you. Using a tennis ball can be just as effective, also great for chasing and getting you and your dog to move around.
Walking/Jogging: Consider using an expandable leash as it's also helpful when walking or jogging as your pet can go ahead or vice versa. For joggers, start by warming up with a walk and work up to a jog. Pay attention to your dog for any signs of fatigue or overheating as dogs have a higher body temperature than humans. Be sure to bring water for you and your dog; collapsible water bowls are great for this. Also, be on alert for rough terrain and any signs that your dogs paw pads are sore.
Stair Climbing: Find a public building or auditorium and walk or run up and down the stairs. It's a terrific aerobic workout and great for the thighs. Begin with ten minute sessions and try to work up to 30 minutes.
Jump Rope: You and your dog can learn how to jump rope together; this is great aerobic exercise and can be done inside or out. Start slowly letting your dog understand the idea of jumping over the rope, then work on integrating the rhythm of the rope going around.
Scratch My Flat Belly Recipe for Dogs
by Loews Hotels Executive Chef, Marc Ehrler
Recipe for a medium to large dog…
1/2 cup of ground lamb, beef or chicken
1/2 cup of cooked barley
1/2 cup of cooked lentils
1/2 cup of olive oil
1 tablespoon of organic yogurt
In a sauté pan heat up the olive oil and cook the meat.
Add the cooked barley and cooked lentils.
Remove from the heat, place in a bowl until cool to touch.
Mix in the organic yogurt and serve to your dog.
Since the introduction of the "Loews Loves Pets" program in 2000, many VIPs (Very Important Pet) have made Loews Hotels their home away from home, enjoying the special treatment and privileges that are offered at all the chain's properties in the US and Canada. As part of the Loews Loves Pets program, each visiting VIP can travel in first-class comfort with gourmet room service, specialized bedding, a pet amenity, and guest services designed to make pets and their owners feel right at home.
For more information or to book the Pumped-Up Pets package, call 1-800-23-LOEWS or visit http://www.loewshotels.com.
*Please check with your physician and your pet's veterinarian before starting a workout program.
Headquartered in New York City, Loews Hotels owns and/or operates 17 hotels and resorts in the U.S. and Canada. Located in major city centers and resort destinations from coast to coast, the Loews portfolio features one-of-a-kind properties that go beyond Four Diamond standards to delight guests with a supremely comfortable, uniquely local and vibrant travel experience. Loews boasts some of the industry's most innovative and successful travel programs, including Loews Loves Kids for families and Loews Loves Pets for discerning animals on the road. For reservations or more information on Loews Hotels, call 1-800-23-LOEWS or check http://www.loewshotels.com.
Follow Loews Hotels on Twitter at http://twitter.com/Loews_Hotels.
Fan us on Facebook at http://facebook.com/LoewsHotels.
Contact:
Emily Goldfischer
Loews Hotels
212-521-2833
egoldfischer(at)loewshotels(dot)com
Michelle Colligan & Gabby McNamara
Redpoint Marketing PR, Inc.
212-229-0119
colligan(at)redpointpr(dot)com
mcnamara(at)redpointpr(dot)com
###