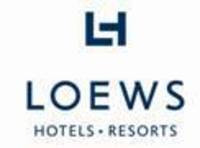 New York, NY (Vocus) September 3, 2009
Loews Hotels' chefs want to know: Are you ready for some football food?
Gridiron gastronomes should get ready to be happy because Loews sports-loving chefs have compiled a playbook of their most tantalizing recipes for tailgating this season.
Tackle "Tight End Thai Dip" from Loews Hotels Corporate Master Chef Marc Ehrler. Sink your teeth into "Flea-Flicker Flank Steak", a creation of Andrew Rubin, the top toque at New York's Loews Regency Hotel. Chef Arnel Esposo of Loews Madison in Washington D.C. rates all-pro acclaim for his go-for-broke "Touchdown Teriyaki Shrimp Skewers." The "Linebacker Lobster Potato Salad" fashioned by Chef Elaine Taubin of Loews Vanderbilt in Nashville keeps fans fired up long after the game is over.
Food and football are a dynamic duo just like Phil Simms and Bill Parcells, Tom Brady and Randy Moss, or Joe Montana and Jerry Rice. Loews renowned chefs have produced a formidable food lineup for college and pro football-starved fans ready to chow down and gear up for the 2009 season.
The starting lineup:
Tight End Thai Dip
Master Chef of France Marc Ehrler, Loews Hotels' Corporate Executive Chef
and Executive Chef, Loews Coronado Bay Resort (San Diego, CA)
Ingredients:
¾ cup hot BBQ sauce
½ cup peanut butter
2 Tbsp grated ginger root
1 Tbsp soy sauce
1 Tbsp rice wine vinegar
1 Tbsp honey
Method:
Place ingredients in a small bowl, stir until smooth. Serve at room temperature. If too thick, add water or additional vinegar to achieve proper consistency. Enjoy with chips, crackers or veggies. This dip can also be used for ribs, wings or even on a burger.
Linebacker Lobster Fingerling Potato Salad
Elaine Taubin, Executive Chef
Loews Vanderbilt Hotel (Nashville, TN)
Ingredients:
1 lb fingerling potatoes
4 slices bacon, cooked and diced
¾ cup lobster meat, cooked
1 Tbsp tarragon, fresh
½ cup pistachios, roasted
½ cup olive oil
1 Tbsp white balsamic vinegar
2 cloves garlic
Serves 6
Method:
Cut potatoes in half lengthwise. Place on sheet pan, drizzle with olive oil, salt and pepper. Roast in 350 oven for 20 - 25 minutes, until done. Let potatoes cool. In food processor blend tarragon, pistachio, olive oil, vinegar and garlic. Blend until becomes a paste. Add more oil if too thick. Place potatoes, lobster meat, bacon in a bowl. Pour pesto over and toss well until all is coated. Serve well-chilled.
Touchdown Teriyaki Shrimp Skewers
Arnel Esposo, Executive Chef
Loews Madison Hotel (Washington, DC)
Marinade
Ingredients:
1 2 inch piece of fresh ginger, finely minced
3 cloves fresh garlic, minced
1 cup soy sauce
1 cup sugar (see note)
2 Tbsp Jack Daniels (or other whiskey or rum)
1 ½ lb of shrimp, peeled, deveined, tails off
bamboo skewers, soaked in water
Serves 6 - 8
(Note: A can of pineapple in syrup may be substituted for the sugar if a blender is available. Measure out ¾ cup of pineapple from a can of slices or chunks, then add ¼ cup syrup (from the can). Blend to a liquid.)
Method:
Peel ginger using a sharp paring knife and slice. Toss into blender. Add garlic, soy sauce, sugar and Jack Daniels. Combine in a blender. Pour into a Ziploc bag and marinate shrimp overnight in a Ziploc bag. Discard any remaining marinade after removed from bag.
Assembly of Skewers:
Place 4 - 5 shrimp on skewer in the shape of a "U". Put in a bag or container to transport to tailgate. Keep chilled until ready to grill.
Grill:
Heat grill to at least 350 degrees. Place skewers on grates of grill. Cook 3 - 4 minutes per side. Serve warm with assorted dipping sauces.
Flea-Flicker Flank Steak with Gridiron Garlic Bread
Andrew Rubin, Executive Chef
Loews Regency Hotel (New York, NY)
Flea Flicker Flank Steak
Ingredients:
Two each 4 lb Flank Steaks to serve approx 6-8 people
1 cup soy sauce
1 cup molasses
1 cup sesame oil
1 cup duck sauce
1 cup orange juice
½ cup Frank's Hot Sauce
2 Tbls chili garlic sauce
½ cup mirin sauce
¼ cup rice wine vinegar
½ cup minced garlic
1 lb dark brown sugar
Method:
Mix all ingredients well. Reserve one third marinade. In a vessel with enough room to lay the steaks flat, submerge the steaks in the remaining marinade. Marinate 24 hours, turning steaks occasionally.
Grill steaks for approximately 20 minutes, turning and glazing with the reserved marinade every five minutes. (Cook longer for medium well and well.) Slice Steaks on a 45 degree angle, against the grain, and approximately 1/8 inch thick. Pile on toasted gridiron bread and enjoy with select toppings.
Gridiron Garlic Bread
Ingredients:
2 whole Italian Breads
½ cup butter melted
½ cup olive oil
½ cup minced garlic
½ cup chopped flat parsley
Method:
Add butter, olive oil and garlic to small pan. Add medium heat until mix begins to boil. Remove from heat, let cool to room temperature. Stir in parsley. Cut Italian bread in half lengthwise, brush liberally with garlic and oil mixture and wrap with aluminum foil.
Game day:
You will need a grill, a cutting board, a tongs or fork and a sharp slicing knife. When grill is hot, about 5 minutes before you start to grill Flank Steaks start to warm bread in the foil. When ready to eat, open the foil and grill bread (oil side down) briefly, before making sandwich.
Headquartered in New York City, Loews Hotels & Resorts owns and/or operates 17 hotels and resorts in the U.S. and Canada. Located in major city centers and resort destinations from coast to coast, the Loews portfolio features one-of-a-kind properties that go beyond Four Diamond standards to delight guests with a supremely comfortable, uniquely local and vibrant travel experience. Loews boasts some of the industry's most innovative and successful travel programs, including Loews Loves Kids for families and Loews Loves Pets for discerning animals on the road. For reservations or more information on Loews Hotels, call 1-800-23-LOEWS or check http://www.loewshotels.com. Follow Loews Hotels on Twitter at http://twitter.com/Loews_Hotels.
Media Contact:
Ellen Gale
(202) 587-2686
egale (at) loewshotels (dot) com
###