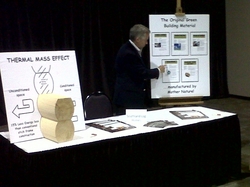 Our raw materials are sourced primarily from sustainable forests, and they require much less energy to process than other building materials
Columbia, SC (Vocus) May 18, 2010
Southland Log Homes showcased how its log homes support a positive environmental position at the InnoVenture Southeast conference, held May 11-12. The conference highlighted new technologies centered on sustainability, clean energy and green approaches in the marketplace.
"Our raw materials are sourced primarily from sustainable forests, and they require much less energy to process than other building materials," said Ken Sekley, CEO of Southland Log Homes. "We have a smaller carbon footprint, and our log homes are especially sustainable."
Southland Log Homes specializes in designing and manufacturing log home packages for national and international clients. The company's InnoVenture presentation concentrated on green building solutions that log homes offer in terms of their design, materials and resulting energy efficiency.
"The thermal mass of the logs improves both the heating and the cooling efficiency of the home," Sekley said. "Properly constructed, our homes have been shown to exceed ENERGY STAR rating requirements and received a 'Five Stars Confirmed Rating' under the Home Energy Rating System."
The conference provided Southland with additional ideas for improving the energy performance of their log home packages in the future.
"There is a strong emphasis on green building and sustainable communities right now, and that will only become more important in the future," Sekley said. "Because of their strength, design, durability and aesthetic appeal, our log home designs work well in a wide variety of sites and surrounding communities. We are planning to incorporate additional green technologies into our log homes, and the InnoVenture conference has helped us make valuable connections that will help us to do just that."
About Southland Log Homes
Headquartered in Columbia, South Carolina, Southland Log Homes was founded in 1978 and is the largest log home company in the United States. Southland operates model home sales offices in ten states and has authorized Southland dealers located throughout the United States, Europe and Asia. Model homes are located in Atlanta, GA; Baton Rouge, LA; Birmingham, AL; Charlotte, NC; Christiansburg, VA; Columbia, SC; Fredericksburg, VA; Greensboro, NC; Greenville, SC; Houston, TX; Jackson, MS; Louisville, KY; Macon, GA; Memphis, TN; Nashville, TN; and San Antonio, TX. For more information about Southland Log Homes, call 800-641-4754 or visit http://www.southlandloghomes.com.
# # #