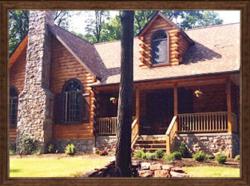 We want to make the transition into your dream home easy, so we offer a complete turnkey approach.
Ephrata, PA (PRWEB) December 20, 2012
Gingrich Builders announces the creation of a natural living experience with Laurel Ridge, which is designed to provide a rustic environment for homeowners who want a unique home that is solidly constructed. The new model gives a larger market of residents of central PA accessibility to custom log homes.
Laurel Ridge is an addition to an already large inventory of 14 model log homes. The two-story floor plan is one of the largest in the collection of log cabins with nearly 2,200 square feet of interior space. This three-bedroom, two-bath home comes complete with a first floor master bedroom, loft, garage, front porch, screened-in back porch, spacious kitchen, dining room, and family room open to above. The new model is still characterized by all the standard features of a typical home by the log cabin builder.
Gingrich Builders uses the Superior Walls© system for a strong foundation of 12 layers of concrete, which also becomes livable, insulated space. Pine or cedar logs are the choice of building material. Exposed joists and tongue-and-groove pine flooring are standard in the loft. Visible beams, hardwood flooring and custom stairway constructed out of pine beams are also found in each of Gingrich Builders' custom log homes.
Easy-to-clean, tilt-in windows and solid pine doors are convenient and natural details of the Laurel Ridge. Not leaving out any detail, smoke detectors with backup batteries are included to ensure the safety of residents.
In addition to its numerous amenities, the Laurel Ridge is a turnkey property. Similar to Gingrich Builders other log cabins, once the customer chooses their options, the log home builder handles the rest. Among the options, homeowners choose the building material, kitchen cabinetry and either drywall or wood for the walls. Owner Bruce Gingrich says, "We want to make the transition into your dream home easy, so we offer a complete turnkey approach."
Gingrich Builders is an experienced log cabin builder with over 30 years in the log home industry. Their quality craftsmanship is second to none compared to competitors. Not only do they specialize in new construction, but they are also fully competent in the remodeling and restoration sectors of the market. If you are planning on building a log cabin or log home for your primary residence or for a weekend retreat, contact Gingrich Builders now. Their new office is now open at 1971 W. Main Street in Ephrata, PA. For more information visit http://www.gingrichloghomes.com or call (717) 283-4811.