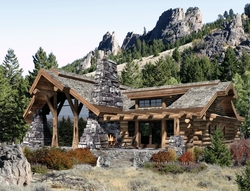 The angled entry porch adds a unique architectural element to the home from the moment you set foot inside the door. The rest of the home is just as captivating
Meridian, ID (Vocus) April 1, 2010
The Caribou design is featured this April at http://www.loghomes.org, the official website of The Log Homes Council.
The Caribou log home design first landed in the limelight in 2007. Created by Mountain Architects, PrecisionCraft's award-winning team of log home designers, the design earned "Best Single-Level Floor Plan" by Log Home Design magazine.
After that auspicious start, the Caribou has remained one of the company's most popular designs, says Jim Young, president of PrecisionCraft in Meridian, ID. "Since we created this design in 2007, 15 of our clients have opted to use this design as the basis for their dream home. This year we have five more clients who are building variations of the design. People are drawn to its healthy mix of beauty and functionality."
The Caribou is also this month's Featured Home at http://www.loghomes.org, the official website of the Log Homes Council, part of the National Association of Home Builders.
The Caribou continued to attract rave reviews. In 2008, the plan was once again recognized as "Best of the Best" in Log Home Living's 10th Annual Floor Plan Contest. The panel of judges favored the design for its single-level floor plan living, split bedroom layout, integration with the outdoors, and use of a massive three-fireplace structure.
More accolades arrived in 2010. Katherine Schuster at Log Home Living recognized the Caribou's unique features. "The angled entry porch adds a unique architectural element to the home from the moment you set foot inside the door. The rest of the home is just as captivating," Schuster said.
"The communal areas blend together seamlessly, and the transition to outdoor living space is just as effortless, providing an ideal setup for entertaining," Schuster said. "A three-fireplace structure that can be enjoyed from the living room, outdoor patio or master bedroom extends the cohesiveness to the bedroom wing. The home is cozy and intimate without being cramped. It will serve its owners well, for many years to come."
Katherine's prediction held true. Today, PrecisionCraft's Caribou has inspired custom log homes across the United States – from handcrafted to timber frame to Mountain Accent, each home is unique. Modified to match each client's unique style, build location and budget, the Caribou dream has been realized in Ohio, California, Wyoming, Washington, Pennsylvania, Arizona, West Virginia, Wisconsin, New Jersey, Texas and Colorado.
About Mountain Architects:
As a premiere designer of custom log homes and timber frame homes, Mountain Architects is the log and timber frame industry's most honored and respected architectural firm. With numerous awards and 20 years of design excellence, Mountain Architects creates inspiring designs that match each client's unique lifestyle, architectural preference and building location.
About PrecisionCraft Log Homes & Timber Frame:
From construction drawings to materials selection to an exclusive builder bidding process named BidRightSM, PrecisionCraft negotiates on behalf of its clients, ensuring best price, highest quality and accountability from all parties involved. For every client, PrecisionCraft's Total Log Homes Solution® guarantees optimal pricing and superior quality.
For more information on designing and building custom mountain homes, please visit PrecisionCraft's Log Homes Center at PrecisionCraft.com or call 800-729-1320.
###