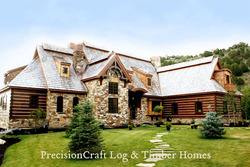 Meridian, ID (Vocus) February 20, 2010
PrecisionCraft's architectural firm, Mountain Architects, receives national recognition in two of four log home design categories in Log Home Living's 2010 Floor Plan Contest. The complete list of winning floor plans can be found in the April 2010 issue of Log Home Living, now on newsstands.
The two homes, PrecisionCraft's Montclaire log home plan as well as a custom, platinum LEED certified log home in Oregon, both top dramatic mountain sites and rise above the national competition for the brilliance of their creative combination of log and timber frame construction. All floor plans and images submitted for Log Home Living's 12th Annual Floor Plan Design Competition were evaluated according to the design's footprint, flow, functionality, and creativeness.
PrecisionCraft's Montclaire log home plan is named winner in the "Over 4,000 Sq. Ft. Category." The judge's review included this description:
"Expansive, Yet Inviting. The Montclaire plan is about more than mere size. Rather than allow the space to wander, the plan staggers and compartmentalizes rooms effectively, leaving openness where it makes sense but providing several semi-secluded niche rooms to optimize the use of the home. Highlights are the hearth room adjoining the kitchen and the sitting area of the master suite, with its own fireplace. The covered patio, also with a fireplace, is the kind of touch that enriches a larger home. In addition, the home presents a thoroughly modern look by integrating square-log walls, custom timber frame elements, eye catching stonework and shingle siding to create a balance that prevents any one building element from overwhelming." ~Log Home Living, April 2010
PrecisionCraft's custom designed log home in Government Camp, Oregon is named winner in the "Energy-Efficient Design" Category. The judge's review included this description:
"Livability, plus Sustainability. Submitted for LEED's Platinum certification, the Ryan Home plan reveals the ability to design and build a full-log home that is both energy efficient and full of distinctive character and style. The rooms are grouped sensibly around the core great room, but extras like the den and bar accommodate the owner's lifestyle. Among the green design features are extra-large roof overhangs and windows designed to let in the sun during winter and keep out the high summer sun. In addition, the home takes advantage of tight-fitting log connections and a building system that incorporates structural insulated roof panels to achieve an R-value of 52." ~Log Home Living, April 2010
About Mountain Architects:
As a premiere designer of custom log homes and timber frame homes, Mountain Architects is the log and timber frame industry's most honored and respected architectural firm. With numerous awards and 20 years of design excellence, Mountain Architects creates inspiring designs that match each client's unique lifestyle, architectural preference and building location.
About PrecisionCraft Log Homes & Timber Frame:
From construction drawings to materials selection to an exclusive builder bidding process named BidRightSM, PrecisionCraft negotiates on behalf of its clients, ensuring best price, highest quality and accountability from all parties involved. For every client, PrecisionCraft's Total Log Homes Solution® guarantees optimal pricing and superior quality.
Learn more about designing custom mountain homes with this award-winning team by visiting http://www.precisioncraft.com.
###