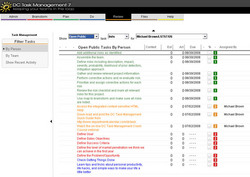 We wanted to create software that works for the people.
Lake Mary, FL (PRWEB) August 27, 2008
IBM Business Partner and RIM Alliance Partner Logic Springs Technologies has announced the release of a task management system aimed at overhauling the current approach to managing everyday tasks and ongoing projects. The solution, called DC Task Management, promises to work for teams every step of the way, from the brainstorming stage through completion and review of the project.
Logic Springs Technologies -- a leading provider of groupware whose solutions include group calendaring, time off, and mobile group calendaring via BlackBerry Devices -- has recently expanded its scope to include a solution for organizations in need of a team-oriented task management system.
Product Manager David Engasser explains that the uniqueness of the DC Task Management solution is that it is not geared specifically toward managing individuals' personal tasks. It instead provides teams with a user-friendly method to eliminate any confusion or ambiguity that might arise in the life of a project. The four phases of the solution -- "Brainstorm," "Plan," "Do", and "Review" -- have been designed to accommodate multiple team members working on a project from start to finish, teams in need of a solution that allows for the development of an idea at each stage in its life.
The "Brainstorm" phase has been designed to help users organize the method with which they will carry out the plan by providing the tools to think through the project at hand before beginning work on individual tasks. "I don't know how many times you've been given a task that wasn't very well defined...," Engasser explains, "What we've done is provide you with a tool to define these tasks more clearly, allowing you to move forward with the project."
The tools in the "Brainstorm" phase include the option to import outlines from programs such as MindJet MindMaps, Microsoft Project or Microsoft Word, or to create an outline within DC Task Management itself. Instead of requiring project managers to create an entry for every task in a project, this tool automatically generates each item in your outline as an individual task.
The functionality of DC Task Management extends beyond this initial phase of a project. The "Do" phase solves the problem of prioritizing that troubles today's leading project management systems. "The goal is to put all critical tasks immediately before your eyes." The DC Task Management inbox keeps highly visible the tasks that are truly critical, preventing your view from being cluttered by less relevant items.
In addition, DC Task Management's innovative approach to prioritizing tasks helps further ensure that mission-critical tasks are completed first. The usual priorities of low, medium, and high still exist, but they are augmented with an "importance level"-a tool allowing managers and executives to prioritize tasks that are particularly critical to the organization as a whole.
"Our goal in creating DC Task Management was to avoid making people work for their software," Engasser concludes, adding with a smile, "We wanted to create software that works for the people."
About Logic Springs Technologies:
Logic Springs Technologies is an office collaboration software company with a large roster of over 600 domestic and international customers, including many Fortune and Global 1000 firms. Founded in 1993, our company is recognized as the leader in group calendaring software that solves office collaboration problems for small, medium and large-sized organizations in a broad range of industries. For more information, please visit http://www.DCTaskManagement.com for more information.
###