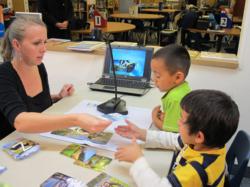 Los Banos, CA (PRWEB) February 29, 2012
Lorena Falasco Elementary School's motto is "Learning Is for Everyone." To make good on that promise and engage students who may not have technology at home, all of the school's kindergarten teachers work with Letters alive (R), a supplemental reading program from Logical Choice Technologies that utilizes Augmented Reality on either Mac or PC platforms.
The most recent study by the National Center of Education Statistics revealed an alarming fact-- 67 percent of all US fourth graders scored "below proficient" on reading skills, meaning they are not reading at grade level. Letters alive was designed to combat that trend by engaging early learners. After adopting the program, Lorena Falasco Elementary recently participated in an interactive case study to document their results.
"Using the Letters alive curriculum really makes kids excited about learning, and that makes us excited about learning," said Principal Jane Brittel. She first learned about Letters alive at the annual International Reading Association Conference. The interactive program invites students to learn with a kingdom of animals that play, make sounds, and respond intelligently to students' actions and questions. By reinforcing letters, letter names, sounds, sight words, statements and questions, Letters alive teaches early literacy skills like reading and forming simple sentences. Because California requires kindergarten students to know letters and sounds before moving on to first grade standards, these skills are vital to students' continued success.
Lorena Falasco's kindergarten teachers say the supplemental reading program Letters alive has been easy to integrate into their core curriculum. Both adhere to state standards and teach a letter a week with sounds, sight words and word families.
The kindergarten teachers instruct from the core curriculum in the mornings, and then with Letters alive in the afternoons. Teacher Jenny Cotta said that the animals in the supplemental curriculum make a world of difference because they "give students who may not have accessed the core curriculum another way of getting it."
The technology gives students extra time to practice forming sentences and connect their learning to exciting animals. Cotta said, "It is so captivating and so motivating that some of my shyest students forget their inhibitions and speak. It's amazing."
That interaction is key to engaging students at a critical time. Studies show that a quality early education leads to students learning better, earning more, and being better citizens – for life. For Principal Brittel, there's no question on the value of Letters alive. "We want our students to be engaged and excited about learning, and we feel the technology helps us do that."
To learn more about Letters alive, visit http://www.logicalchoice.com/lettersalive, and to view Lorena Falasco Elementary's Interactive Case Study, visit http://www.lorenafalasco.lettersalivek12.com/
###