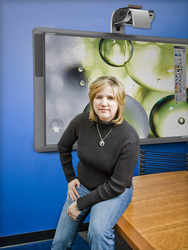 We see every day how Promethean technology is transforming teaching and learning—and, by extension, people's lives.
Lawrenceville, GA (PRWEB) March 2, 2011
The nation's leading provider of Promethean's ActivClassroom educational technology—Logical Choice Technologies—announced today that they have come to an agreement with the manufacturer (Promethean USA) to expand their authorized Promethean market area from 9 to 50 states.
With just five employees in 1994, Logical Choice Technologies started to build a vision about how it could help schools utilize technology to advance education. Today, from its new 48,000 sq ft Corporate Office in Lawrenceville, Georgia, the company has extended its reach from coast to coast with a staff of 250 professionals and growing. From the company's current nine-state footprint, Logical Choice has sold and installed more Promethean interactive whiteboards and learner response systems into schools than any other company in the United States.
"We were Promethean's first integration partner in the USA and are delighted that Promethean wants to work with us to serve schools across the entire country," said Cynthia Kaye, CEO of Logical Choice. "Promethean ActivClassroom technology has the power to improve teaching and learning like never before. For example, the new multi-touch ActivBoard 500 Pro system is dramatically raising the standard for interactive whiteboard systems with its simultaneous intuitive pen and touch capability. We are eager to introduce this game-changing technology to educators around the nation."
Beyond offering technology products, Logical Choice also works hand-in-hand with schools to implement the technology. Their Promethean-certified professional services team assists the schools not only in planning and executing the installation of the equipment, but also in training educators on how to use the technology in the classroom.
"I can't think of a better partner than Logical Choice Technologies," said Myron Rumsey, Director of Technology for the Odessa-Montour Central School District of Odessa, NY. "They go beyond the traditional business relationship and truly care about our students as much as we do. Logical Choice stands behind everything they do and dedicates itself to making sure that you are successful, because they become invested in your efforts to improve the education of students."
Cheryl Hines, the star of HBO's Curb Your Enthusiasm and executive producer of NBC's School Pride, asked CEO Cynthia Kaye for help with renovating aging and broken schools in 7 hard-hit communities. In the end, both Logical Choice and their manufacturer partner, Promethean, donated hundreds of thousands of dollars' worth of equipment to the struggling schools featured in the prime-time series. In addition, Kaye and a team of her company's professional installers traveled around the country in the summer of 2010 to set up the new technologies into the classrooms of these schools.
"The schools selected for School Pride needed our help and we were happy to give it," said Kaye. "We see every day how Promethean technology is transforming teaching and learning—and, by extension, people's lives. To be a part of making that happen now on a nationwide basis is thrilling."
To explore the full range of products and services offered by Logical Choice Technologies, visit http://www.logicalchoice.com.
###