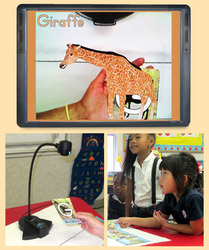 Our kids loved working together with the virtual 3D animals. The students kept asking for more. Suddenly, learning to read was so much fun. It was so engaging that our kids just didn't want to stop.
Lawrenceville, GA (PRWEB) November 4, 2010
Educators and parents who tune into NBC's "School Pride" on Friday night, November 5 will have a peek at some mind-boggling new technology -- the first teaching and learning application using "augmented reality." The curriculum application, Letters alive (TM), which was pioneered by Logical Choice Technologies, is an exceptionally engaging way to teach children how to read. The concept of augmented reality, often referred to as AR, originated and was popularized in science fiction.
Today, augmented reality is quite real in the worlds of marketing, gaming and entertainment. For example, few football fans realize the yellow "first down" line, superimposed on a televised football field, is a rudimentary example of AR. However, the real potential for augmented reality is to enhance teaching and learning. The technology works by overlaying seemingly-real digital experiences (virtual interactive 3D images, words, videos, sounds) on a person's local environment. In education, that environment is the classroom. The 2010 Horizon Report, a joint report by The New Media Consortium and Educause, predicts that augmented reality will be widespread in education within four to five years.
This AR application allows for a "two-way interaction" between students and seemingly-real virtual characters. Unlike simple animated characters, Logical Choice's virtual animals can respond to the actions of the student. "On 'School Pride,' viewers will see an amazing virtual giraffe," said Cynthia Kaye, founder and CEO of Logical Choice Technologies, "interacting with students in a Detroit classroom. The kids are mesmerized. The curriculum is effective because it reaches children on so many sensory and emotional levels."
"Let's say Lily, a kindergarten student, holds the letter 'G' card from our new AR product, Letters alive (TM), under a document camera," said Kaye. "An adorable projected 3D giraffe, Gerdy, will pop right up in her little hands on the screen. The giraffe seems very alive. Gerdy moves, makes sounds, and responds to the child. Lily can turn or tip the card and see the projected image of Gerdy from any angle, but that's just the beginning." On Letters alive (TM) alphabet cards, the child can press one of five virtual buttons and hear the phonic sound of the letter "G" or the sounds a giraffe makes. The student or teacher can also arrange the "G" (giraffe) card with 'sight word' cards from the set to form statements or ask questions. For example… Can the giraffe eat? If correct, Gerdy will answer by nodding her head up and down. Then, she will start eating some tree leaves that appear like magic.
"We tried out Letters alive (TM) in a kindergarten class," said Janice Sinclair, Head of Education at the Branch Community School in Georgia. "Our kids loved working together with the virtual 3D animals. The students kept asking for more. Suddenly, learning to read was so much fun. It was so engaging that our kids just didn't want to stop."
One roadblock may have been keeping AR from emerging in education before now. The equipment utilized to support the technology was designed for individual use, not for classrooms full of students. "Our company was determined to develop an AR application," Kaye said, "that would work with common technology devices found in today's classroom. After extensive R&D and several patent applications later, we developed a set of 131 Letters alive (TM) teaching cards and AR software that works with nothing more than a teacher's laptop, a document camera, a projector and screen or an interactive whiteboard. The projector doesn't need to be 3D and 3D glasses are not required."
Learning is experiential. The more senses that are involved (sight, sound and touch) and the more emotional the connection, the stronger the learning experience. Students truly learn best by doing. Today's most revered interactive teaching tools like Promethean ActivBoards, ActivExpression learner response systems and smart boards are designed to engage students on multiple levels. Augmented reality technologies for educational purposes, like those being pioneered by Logical Choice Technologies, hold the promise of immersing students in experiential learning environments that were quite unimaginable until now.
Logical Choice will introduce the Letters alive (TM) curriculum under the company's AR Alive (TM) brand. The product consists of a set of 131 virtual 3D cards, software, teacher guide, and student worksheets. The curriculum will be rolled out at an educational technology conference, FETC 2011, in Orlando, Florida on January 31 to February 3. A video of this AR-infused curriculum in use at the Branch School can be viewed at: http://www.logicalchoice.com.
###