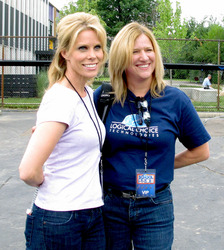 For much of the general public, "School Pride" will serve as an introduction to some of the foremost learning technologies that are presently transforming education around the world.
Lawrenceville, GA (PRWEB) September 30, 2010
Logical Choice Technologies announced today their partnership with the new NBC reality series, "School Pride." This new prime-time series, which premiers October 15 on NBC (Fridays 8/7c), tells inspiring stories of communities coming together to renovate their aging and broken public schools. Cameras follow students, teachers, parents and community members as they roll up their sleeves and rebuild their own schools, concluding with the unveiling of a brand-new, completely transformed school. Cheryl Hines, the Emmy®-nominated star of HBO's "Curb Your Enthusiasm," is executive producer of "School Pride," along with Emmy-nominated executive producer Denise Cramsey ("Extreme Makeover: Home Edition").
"Teaming up with NBC's 'School Pride' was such a natural fit for us," said Cynthia Kaye, founder and CEO of Logical Choice Technologies, "because transforming classrooms into 21st Century learning environments is our company's expertise. Those schools needed help and we were thrilled to give it. Our people are very passionate about making a difference in education. It's part of our DNA. So, we were really honored to be invited to participate in the first season of School Pride."
Logical Choice donated its products to all seven schools being made-over on the series. "A dedicated team of our professional installers and I traveled around the country to set-up our products at each location," Kaye said. "But, we also outfitted their classrooms with technologies contributed by Promethean, HP, Ken-A-Vision and Ignite Learning, which is something we do in our regular business as well. We worked side-by-side with the 'School Pride' production crew and thousands of wonderful community volunteers. What a great experience! We were overwhelmed to see such a positive, enthusiastic reaction by the teachers and kids to the new learning technologies we installed into their classrooms."
Teachers often face difficult attention and participation issues with students in traditional classrooms. Many of the technologies that were implemented by Logical Choice in "School Pride" classrooms are designed to help teachers better engage their students, stimulate learning and increase achievement. For much of the general public, "School Pride" will serve as an introduction to some of the foremost learning technologies that are presently transforming education around the world.
The excitement is building in education for the launch of this reality series. Cheryl Hines, executive producer of "School Pride" said, "there is nothing more gratifying than seeing the smiles on the children's faces and knowing that you helped play a part in rebuilding a community in need." On October 15th, 250 employees of Logical Choice and thousands of like-minded educators will be glued to their television sets for the premier episode of this heart-warming series. It may well make a lasting impact on the state of education in America.
ABOUT LOGICAL CHOICE TECHNOLOGIES
Logical Choice has sold and installed tens of thousands of Promethean interactive whiteboards and learner response systems to K-12 schools, more than any other integrator in the nation. The company provides turn-key solutions solely for the education market including product, teacher training, installation, local sales support and online procurement. Offerings consist of many of the leading 21st Century learning and security technologies including hardware, software, and curriculum. Logical Choice manufactures a popular brand of document camera, the 3Cam (TM), and AudioGear (TM), an IP-controllable multimedia sound system with voice enhancement.
###