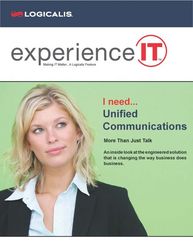 For most organizations, it's not a matter of if they are going to implement unified communications, but when and how to best integrate unified communications within their business structures and processes.
Bloomfield Hills, MI (PRWEB) January 23, 2008
Unified communications combining voice, data, collaboration and video technologies, may sound like science fiction, but real organizations are benefitting from these technologies today. Unified communications is earning IT departments new respect by making it possible to respond more efficiently and effectively to customers in the thousands of small interactions that build lasting relationships. To help IT professionals better understand how their organizations can take advantage of new unified communications technologies, Logicalis, a global provider of high-performance technology, has developed "Unified Communications: More than Just Talk" a feature article that discusses the technologies and strategies involved. The complimentary guide is available for download from http://www.us.logicalis.com/uc.
"If customer relationship management is all about increasing touch points, then unified communications is like a full contact sport," said Logicalis Vice President of Cisco Solutions Ron Temske. "For most organizations, it's not a matter of if they are going to implement unified communications, but when and how to best integrate unified communications within their business structures and processes."
Among the early adopters of unified communications technologies are those companies in industries where success depends on customer communications, including professional services, insurance, banking, retail, health care and nonprofit organizations. These companies are drawn to the immediate customer responsiveness made possible through unified communications features such as presence and mobility. Presence collects information about a user's availability and communications capabilities, including whether a person is available by phone or has Web or videoconferencing; mobility gives users the ability to redirect incoming Internet Protocol (IP) calls on the fly to or from an office phone to a cell phone.
>> For examples of companies that have successfully implemented unified communications in their organizations, visit: http://www.us.logicalis.com/ucc
A recognized leader in unified communication technologies, Logicalis developed the feature article to help IT professionals navigate the features and understand the benefits that can be realized through incorporating unified communications into their organizations.
Among other insights and perspectives, Logicalis experts highlight three key areas wherein organizations can immediately benefit from unified communications:
Collaboration - enabling employees in increasingly decentralized corporate environments to make sharing ideas as easy as dragging a set of names from an email address book into a collaboration space.
Unified Client - saving employees from playing time-consuming and frustrating shell games with their messages by acting as a focal point for all forms of communications including multiple email addresses, multiple voice mail sources, fax and IM.
Integrated Contact Centers - reducing expenses, improving effectiveness and increasing customer satisfaction using existing resources to create "virtual corporate call centers" wherein agents can seamlessly establish voice, chat, email or video connections with customers--at anytime, from nearly anywhere.
"IT departments can quickly embrace and see real return from unified communications technologies," said Temske. "There are many opportunities to leverage a wide range of technology transitions, from implementing IP telephony, to integrating branch offices or acquired companies into a single voice and data network, to upgrading to the latest version of Exchange or Lotus Notes."
About Logicalis
Logicalis is a global provider of high-performance technology solutions. With over 1,200 people worldwide, Logicalis delivers smart solutions based on specific needs, not the latest IT trend. Logicalis provides options, direction and support to more than 5,000 corporate and public sector customers. The company attributes its success to the everyday positive experiences with its customers and strategic partners such as IBM, HP, Cisco and EMC.
Logicalis is a division of Datatec Limited (LSE/JSE:DTC), a $3.2 billion multi-national organization listed on the AIM market of the LSE and the Johannesburg Stock Exchange. With its international headquarters in the UK, Logicalis has annualized global revenues of over $900 million from operations in the U.S., UK, Germany and South America. For more information about the Logicalis experience, visit http://www.us.logicalis.com.
Media contacts:
Lisa Dreher, VP, Marketing & Business Development, Logicalis, Inc.
425-201-8111
http://www.us.logicalis.com
Arthur Germain, Principal, Communication Strategy Group for Logicalis
631-239-6335
http://www.gocsg.com
###