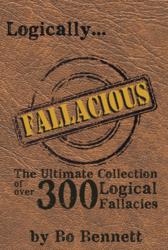 Expose an irrational belief, keep a man rational for a day. Expose irrational thinking, and keep a man rational for a lifetime.
Sudbury, MA (PRWEB) February 28, 2012
Readers who have always thought of the study of logic as an activity involving dusty old tomes and requiring the memorization of mind-numbing four-syllable Latin words will be delighted to find "Logically Fallacious: The Ultimate Collection of Over 300 Logical Fallacies" by Bo Bennett. The book provides a well-organized tour of all sorts of invalid reasoning, addressing the topic with pizzazz and humor.
Overall, the fallacies are divided into those that are more common and those that are rarely seen, with the former getting more expansive treatment and both sections arranged in alphabetical order by its English name. The longer entries start with the English name followed by the Latin name and any alternate names. A general description and the logical form of the fallacy are next, with examples, explanations of each example, and exceptions, tips, and variations as appropriate. The writing is intended not only to be clear but to grab readers' attention with its attitude and no-holds-barred take downs of reasoning that doesn't stand up to examination . . . no matter from whom it comes.
"Several years back," recounts Bo, "I became passionate about science, philosophy, and religion, which eventually led to my starting a debate website called DebateGod, as a way to help me understand how other people think, and come to the conclusions they do. After years of what I considered eloquent defense of my positions, I found that I was getting nowhere despite my facts being correct. This led me to the study of logic and fallacious reasoning. I began to realize that our emotional, and often irrational, unreasonable, and illogical brains get in the way of truth. And then it hit me: Expose an irrational belief, keep a man rational for a day. Expose irrational thinking, and keep a man rational for a lifetime."
Even people who suspect that they, or those around them, are not always rational need tools to help them learn to recognize faulty reasoning so that logic and reason can triumph. This comprehensive collection of logical fallacies with all original examples and easy to understand descriptions, is perfect for educators, debaters, or anyone who wants to be improve his or her reasoning skills. From 'spin doctoring' to 'weasel wording', this book will help readers triumph over faulty logic. Readers can preview the book at logicallyfallacious.com.
"Logically Fallacious: The Ultimate Collection of Over 300 Logical Fallacies" is published in both paperback and eBook format, and is now available from popular online retailers, including Amazon.com, BN.com, Apple's iBookstore, and Sony.
About Bo Bennett
Robert (Bo) Bennett is a business man, author, programmer, philosopher, martial artist, motivational speaker, amateur comedian, and most of all a husband and a father devoted to improving the lives of others. He is a graduate of Bryant College with a Bachelors degree in Marketing.
By age 10, Bo started listening to and reading personal development tapes and books. Twenty years and hundreds of books later he is considered by many to be one of the leading experts on success. Before beginning his lifelong quest to shape the lives of others, he had to prove to himself that his theories, beliefs and convictions worked.
At age 10, Bo started in business by creating and selling wooden key racks in his father's workshop. Since then, he has started several companies and sold them anywhere from $1 to $20,000,000.00. Today, Bo remains active President of Archieboy Holdings, LLC., and founder of eBookIt.com.
At age 13, Bo started studying the martial arts. By Age 18, he earned his first degree black belt in Shaolin Kempo Karate. Since his first back belt, he has also earned a second degree black belt in Tae-Kwon Do and continues to study several different styles, as well as teach. When starting the martial arts, Bo also began a lifelong commitment to fitness and heath, realizing the importance of the mind-body connection.
After selling his first company of significant value, Bo began writing Year To Success, the most comprehensive book ever written on success, based on his experiences, thoughts, and timeless success principles. Year to Success is a book Donald Trump calls, "an inspiration to every person who reads it."
Bo is also a major supporter of and contributor to Toastmasters International (toastmasters.org), an organization established in 1924 to promote communication and leadership through public speaking.
Bo and his wife, Kim, reside in Massachusetts with their two young children and their faithful dog.
About eBookIt.com
Since 2010, eBookIt.com (based in Sudbury, Massachusetts) has helped thousands of authors and publishers get their books converted to ebook format, and distributed to all the major ebook retailers, including Amazon.com, Barnesandnoble.com, Apple iBookstore, Kobo, Sony Readerstore, Ingram Digital, and Google eBookstore.
CONTACT
Bo Bennett
pr(at)ebookit(dot)com
http://www.logicallyfallacious.com
978-460-2281
###