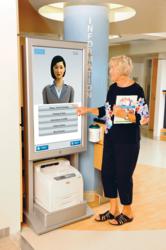 Cleveland, OH (PRWEB) September 22, 2011
LogicJunction, Inc., an interactive software development company specializing in hospital wayfinding technology was presented with the Architect's Choice Symposium Distinction Award at the 2011 Healthcare Facilities Symposium and Expo. The award was presented by Emily Howard, Editor of Facility Care magazine to Craig Knowles, General Manager of LogicJunction's Wayfinding Division at Chicago's Navy Pier.
"It is very gratifying to be recognized by the healthcare architecture profession for our hospital wayfinding system," said Knowles. "These professionals have realized a significant problem of modern medicine is simply getting lost at the hospital. Our interactive wayfinding technology addresses this problem with a sophisticated yet simple system that easily accommodates ongoing changes to hospital floor plans and facility usage."
The Symposium Distinction Awards were judged by a panel of healthcare architecture experts from throughout the United States. The Architect's Choice Product Award is presented yearly to the product whose design contributes to the enrichment of a healing environment through unique design and operational support.
The LogicJunction Hospital Wayfinding System provides detailed step-by-step directions via interactive touch screen wayfinder stations at key locations in the hospital. Maps and individualized walking instructions are generated for each location. A computerized avatar encourages use with its gentle, reassuring presence. Because the wayfinders employ a "dynamic" mapping technology, they are easily re-located if necessary. More importantly for evolving healthcare campuses and those under construction, the wayfinders' dynamic mapping easily accommodates changes to a structure or pathway, keeping them continually accurate as construction progresses.
Founded in 2000, LogicJunction, Inc. is an interactive software company that creates digital characters to help organizations connect with and educate their users. Headquartered near Cleveland, OH, LogicJunction's patented products and solutions combine these helpful, life-like avatars with artificial intelligence to serve clients in many fields including healthcare, education and insurance.
For more information, call (877) 286-2631 or visit http://www.logicjunction.com. The company is located at 23950 Commerce Park Road, Beachwood, OH 44122.
# # #