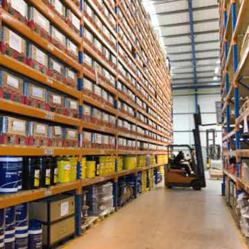 Houston, TX (PRWEB) April 02, 2013
Adams Warehouse & Delivery, one of the leading logistics companies, announces its intention to cover the Gulf region from South Texas to Florida for the Oil and Gas Industry. This means 24/7 coverage of all of the logistics and warehousing needs of this very important industry. Adams seeks to enhance its already long track record of working with the oil and gas companies. This includes storage of fluids and down-hole products, to Bits and specialty items.
Adams Warehouse and Delivery has been providing full-service distribution since 1976, and has climbed to the top of the logistics industry. The company reports that it is the largest family owned warehousing services and delivery company in Texas. Adams maintains 3 Warehousing and Distribution Centers, with over 500,000 sq ft of Dry Storage, and 200,000 sq ft of Outside Storage. There is also 100,000 sq ft of Temperature Controlled Storage.
Adams, a Houston warehouse, is also handling computers and other items for swap-outs on technology. Trucking resources have been added to handle the increased demands of on-time needs for pipe, and other products going direct to land-rigs, job sites, or headed to a vessel at the port. Impeccable Records-Keeping is maintained through specialized software created for Inventory Tracking.
The company reports that its facilities offer dock-height services, and are equipped to handle rail services. Adams is aware of the need for cost-effective movement from train-cars to its warehouse, and from storage to the train-cars. Deliveries are offered from local drops to anywhere in the USA, and all at competitive rates, as they have reported.
Alfred L. Adams, Jr. has a very definitive statement to make, he said: "Our family-owned business has been fine tuning the efficiency of our operations since 1976, when we first started. After over 35 years in the industry, we are now experts in running as efficiently as possible. You simply won't find a better picking, packaging, or kitting company out there. We help your manufacturing process run smoothly by getting parts, goods, and merchandise to suppliers and end-user retailers with ease".
Adams Distribution pays special attention to Security, with the employment of Central Station Monitored Security Cameras. The entire warehouse operation, at all facilities, are under constant surveillance, easing any client's fears of security-breaches. All facilities are also protected from Fire, with fully-sprinklered coverage at each location. Adams' customers have peace of mind knowing that this 24-hour protection is in place, 7-days a week.