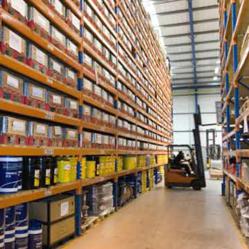 Houston, TX (PRWEB) April 17, 2013
Adams Warehouse & Delivery has announced that it is offering rush order and rush delivery services to the food-grade product manufacturers and distributors. Logistics companies such as Adam's Warehouse & Delivery, offer full service logistics, which is the efficient supply chain management from obtaining supplier products to the delivery of those products to customers. There is not any Houston warehouse that can equal the warehousing services offered by Adam's.
Adam's explains that supply chain logistics are never too complex for them to handle. Whether the order is large or small, logistics management will include safe receiving of goods, storage and shipment of goods. From the moment the order is received, it is entered into their computerized system and is routed to an account manager, who will make sure that the products are received into the warehouse safely. As the materials are received from suppliers, they are checked for quality and accuracy and then moved into the warehousing.
Adam's is able to track every step of the logistics management process through the use of a sophisticated EDI computerized inventory tracking system. When the client wants to know where their goods are at any given time, the answer is almost instantaneous. Certain logistics services are performed prior to warehousing, such as: pick pack or shrink wrap services. They also offer a repack service for any pallet product.
Along with rush orders, rush delivery, contract route delivery and local delivery, Nationwide delivery is also offered. The company reports that it has partnered with the best freight transport outfits to be able to offer the most competitive shipping rates to anywhere in the USA, from coast to coast. They are also capable of making inside set-up deliveries.
Having three warehouses, they can handle any size shipment. Adam's is the largest family owned warehousing and delivery company in Texas. They boast over 500,000 square feet of dry warehouse storage, including 100,000 sq.ft. of climate controlled cool storage.
Besides the 200,000 sq.ft. of outdoor storage, there are also clean room services. Adam's has gone to great expense to make sure that they are they are FDA Approved, and approved by the Health Departments of Louisiana and Texas.