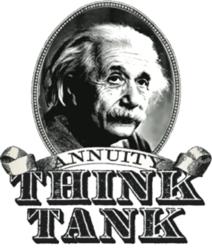 Houston, TX (PRWEB) January 13, 2012
Annuity Think Tank, the number one website for everything about annuities, announces a logo contest for talented logo designers to create a new and fresh Think Tank Logo. As Annuity Think Tank has seen exploding growth over the last 6 months, the decision has been made to change the official logo going forward. Annuity Think Tank is seeking as many new logo submissions as possible on or before Monday, January 30th and we will publically announce the official new Think Tank Logo on Wednesday, February 1st.
The winning designer will receive a $900 premium press release customized by Annuity Think Tank to brand and promote the winning designer, his or her superb work, and their company information and website. The press release will be seen by thousands across the country and will even be picked up by media giants like AOL, Google, Fox, Yahoo, and the Associated Press. The full cost and publishing of the press release will be handled by Annuity Think Tank. Furthermore, Annuity Think Tank will publish and promote the winner and their company on all of the Think Tank social media platforms including Twitter, Digg, LinkedIN, and the Think Tank's 6,000+ Facebook fans.
The new logo will be the official logo for Annuity Think Tank and will be used on everything from the Annuity Think Tank website, it's sister sites, the Think Tank blog, social media sites, videos, and business stationary.
Please see below the rules and description for this logo contest.

The phrase "Annuity Think Tank" must be visible in the logo
The new logo can't use anything that would infringe on other copyrights, trademarks, etc
Please do not use any pictures or clip art that you don't have the rights to publish
Annuity Think Tank would prefer that the logo contain no historical figures, including Albert Einstein
The logo will need to blend with the current color scheme and look of the website. Annuity Think Tank does not foresee changing the website around the logo.
Our Slogan is "Saving the World From Taxable Interest" but is optional to use in the logo.
Our Target Traffic: Our traffic consists of thousands of viewers per week who are insurance agents, financial planners, or baby boomer and senior consumers looking for annuity information and education.
About Annuity Think Tank
Annuity Think Tank's vision is to be the first place advisors and consumers come to for innovative annuity solutions, unbiased annuity education, annuity research, and the most comprehensive annuity information on the web. Consumers interested in learning more about annuities, basic to advanced annuity concepts, and annuity calculators, please visit the consumer site, Theannuitythinktank.com, for more information. To submit your logo for the contest, please email us at info(at)annuitythinktank.com. Make sure to include the best means to contact you.
###