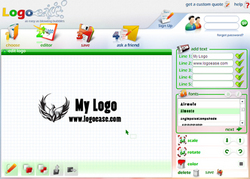 Slough, England (PRWEB) August 24, 2007
Millions of people around the world each year start their journey of business ownership off with a checklist. Typically the initial checklist for business owners includes setting up a business bank account, getting the proper supplies, and of course commissioning a logo to be done for the business.
What if the new business owner cannot afford to have the logo professionally produced? For the first time there is a new website offering business owners an easy and professional grade solution to their problem.
LogoEase.com is the internet's only 100% free logo designer good enough for business owners to use. Most logo designer websites on the net today have hidden fees and up sold items built right into them. LogoEase.com on the other hand offers business grade logo design tools for free, with no hidden charges or fees.
Users can register on the website by filling out a short form, and be on their way to creating a professional logo in minutes. The secret to LogoEase.com's success is their logo maker's easy to use format. With icons showing the user what options are available to them, the LogoEase.com free logo making tool is easy to use, yet powerful enough to develop prestigious logos.
LogoEase.com provides visitors to the site with a large library of logo images and fonts to give amateur logo designers all the tools that the pros have at their disposal. What might be the most substantial benefit to using the LogoEase.com free logo design tool is the file formats. One can save their logo in professional quality file formats such as EPS and TIF.
The company behind the development of LogoEase.com is an award winning graphic design firm that specializes in affordable logo design. Acclaimed design firm Graphic Design Ltd developed LogoEase.com for those interested in creating their own logos free of charge.
LogoEase.com have partnered with TheLogoCompany.net who are the recipient of Wired Magazine's Best in Test award for their innovative custom logo design service.
For a super low flat rate of $149 clients of TheLogoCompany.net are provided with a series of designs based on their requirements, 100% copyrights to the work, a fast 3 day turnaround, and custom artwork that could have came from a five figure design firm.
For more information or to create a free logo visit http://www.LogoEase.com
For fast and affordable professional custom logo design visit http://thelogocompany.net/
###