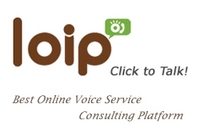 We are very happy to announce the latest version of Loip. It's a platform designed for experts to share their professional experience by providing a voice consultation service in real-time communication regardless of their time and distance
San Francisco, CA (PRWEB) July 2, 2009
Loip.com is the online consultation platform with a marketplace for everyone to exchange information, expertise, and personal experience via click to talk technology. Loip.com has improved the already feature rich website by adding even more functions to empower user experience and convenience. By using leading Flash-based click to talk technology, Loip.com enables users to enjoy online consultative service without revealing phone number. Besides, Loip.com also launched its first application tool, a Flash-based Loip Web Phone, as a iGoogle gadget.
"We are very happy to announce the latest version of Loip. It's a platform designed for experts to share their professional experience by providing a voice consultation service in real-time communication regardless of their time and distance," said James Hou, the founder of Loip.com.
Loip.com is able to accomplish all its service using flash, something they're very proud of, and thereby distinguishing itself from Skype, which requires its user to download and install separate software on the computer.
"It's a work-at-home era; we need to find the best way to use the Internet to promote ourselves, regardless if they're at home or outdoor. You will receive excellent voice quality through click to talk technology by using services on our website to link anyone straight to PSTN or mobile number. Best of all, by becoming an expert on our site through the free registration process, you will be able to receive compensation for every call," Hou said with an air of excitement.
In addition, Loip.com also provides free resources through discussion and knowledge-based service. Any user can request an assistance an expert can then respond through click to talk technology, which enables the two parties to respond to each other in real time from the click of a button on web pages without disclosing neither party's phone numbers. Furthermore, Loip.com allows individual voice service suppliers to determine their own price per minute, field of interest (e.g. educational, financial, social, etc.), and available hours.
Besides providing new features such as demand board, Q&A, appointment mechanism, and an adding the Chinese version of Loip.com, its first application tool, Loip Web Phone, is probably the most valuable feature in the new lineup of updates.
In conclusion, the most important breakthrough of Loip.com is to establish a link between eCommerce and skipping the requirement of computer software through the use of click to talk technology. Buyers of services can experience a more direct alternative by using real-time voice communication instead of traditional agency or search engines for problem solving. Whereas service providers on Loip.com will find marketplace a valuable resource to sell their expertise and earn compensation anytime they're available.
About Loip:
Loip team was founded in Feb, 2009, with solid foundation on VoIP technology. By bringing the web 2.0 spirits, the team has an established history and experience operating in the Asia Pacific market for the past 6 years. It combines talent from Taiwan, Japan, and USA, to create a new era of communicational platform by gathering the online community. The team's mission is to make real-time communication easy and always available to use. To find out more, please go to http://www.loip.com .
Contact:
Janis Lee, Director of Sales and Marketing Dept./ APAC and North America Area
Loip.com
http://www.loip.com
###