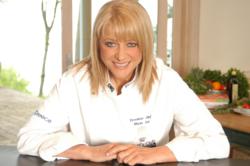 "The best Greek restaurant in New York City" - Good Morning America
New York, New York (PRWEB) May 02, 2013
Krupp Kommunications (K2) is thrilled to announce the addition of Greece's hottest celebrity chef, Maria Loi, the executive chef at Manhattan hotspot Loi Restaurant to their roster of lifestyle, entertainment and publishing clients. Named "the best Greek restaurant in New York City" by Good Morning America, Loi Restaurant has already earned accolades from foodies, tastemakers, and celebrities alike.
Maria brought her magic to Good Morning America on Monday, April 29th 2013, sharing some of her most beloved recipes with millions of viewers- just in time for Greek Easter which is this Sunday, May 5th. Maria took over Good Morning America's set to showcase her authentic Greek Easter recipes, preparing her signature Spanikopita and Stuffed Grape Leaves, Maria's warm spirit and culinary know-how was in full force - and she even had a few signature tricks up her sleeve to share with viewers.
Maria shares these dishes and others at Loi Restaurant- where locally sourced ingredients become inspired, world class meals meant to be shared and savored. Available for private parties, dinners, and events, Loi Restaurant is already a favorite of the Saturday Night Live cast and crew- which have hosted numerous after parties at the restaurant- as well as celebrities and newsmakers such as Diane Sawyer, Emma Stone, One Direction, Gayle King, and Matt Damon among others.
And with such authentic and delectable dishes and a beautiful spacious venue, it's easy to see why celebrities and top tastemakers have been flocking to Loi, and choosing it as their go-to venue for special events. Located at the heart of Manhattan's Upper West Side at 208 West 70th Street, http://www.loirestaurant.com Loi is the perfect space for elegant private functions such as weddings, bar mitzvahs, movie premieres and other large events needing space for 100-500 people.
Maria's motto, "the past is the future" is a nod to the timeless tradition and attention to detail at the heart of truly authentic Greek cuisine. With staples including in-house made organic Greek yogurt and fresh seafood, Loi's food brings local ingredients to life. Maria's dishes are at once hearty and healthy- with a focus on rich flavor, and an innovative spirit that is all Loi's own.
About Maria Loi
Maria has authored several cookbooks, such as "Authentic Greek Cuisine," and was appointed to pen the highly acclaimed "Ancient Dining," the official book for the Athens 2004 Olympic Games. Maria co-starred in the PBS cooking show "It's All Greek," where she demonstrated her stellar culinary skills alongside with popular award-winning TV chef Joe Ciminera. Beyond cooking, Maria is dedicated to helping children through throughout the world, and especially in her native Greece, through extensive charity work.
For more information, please visit http://www.loirestaurant.com
About Krupp Kommunications, Inc.
First established in 1996, K2 Krupp Kommunications is an award-winning full service public relations and marketing agency located in the Chelsea district of New York City. With expertise in connecting brands and personalities with cultural trends and influencers, K2 has taken some of today's top talent, from start-ups to big brands, and has driven many into becoming household names. K2 works and collaborates with clients to develop highly strategic campaigns focusing on going beyond media relations to reaching a client's measurable business goals. K2's experienced group of passionate and professional team members are highly regarded by clients and national media. With its high energy, motivated team that goes above and beyond, K2 is big enough to have the resources to generate meaningful results, yet still small enough to have fun and demonstrate all the flexibility of a boutique.
For more information, please visit http://www.kruppkommunications.com.
Media Contact:
Megan Wilson
Krupp Kommunications
(212) 886-6700
mwilson(at)kruppnyc(dot)com