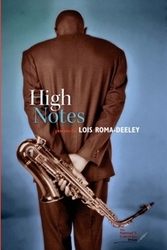 This is pain poetry—pain endured, celebrated, loved and danced to...It's a clean, crisp, starlight fire that'll lead you back to your life purpose and make you rethink and reshape your view of life.
Hopkins, MN (PRWEB) April 13, 2010
With its many thematic riffs and harmonic phrasings, Lois Roma-Deeley's newest collection of poems, High Notes, invites the reader into the shadowy jazz scene of the late 1950s, where music and language fuse into a road of longing and desire. Each of the main characters—hustler, jazzman, singer, waitress and even the one hovering angel who speaks to each of them—struggles with the tyranny of choice.
High Notes won the Benu Press Samuel T. Coleridge Prize, an award honoring an outstanding, contemporary work of literature that fulfills Coleridge's vision of the artist as a reconciling architect of the imagination. Such a work invites us to examine our understanding of the world, establishing new meaning in a just future transformed by possibility.
About the Author
Lois Roma-Deeley has won the Samuel T. Coleridge Prize for High Notes, poems that make readers "rethink and reshape" their views of life.
Critics have called her poems "brilliant," "tough and brave," "poignant," "a vital chorus" and "soul-satisfying." Roma-Deeley has won numerous awards and honors for her poetry, including awards for the Allen Ginsberg Poetry Competition and the Emily Dickinson Poetry Competition, and recognition as a finalist in the Paumanok International Poetry Contest. She has published in eight national anthologies, including forthcoming work in American Book Award winner Looking for Home; The American Voice in Poetry: the Legacy of Whitman, Williams and Ginsberg; and Letters to the World. In addition, Roma-Deeley's poems have been exhibited in collaboration with visual artists nationally and internationally. High Notes forms the basis of a jazz opera she is writing with composer Christopher Scinto. Currently, she is Poet-in-Residence at Paradise Valley Community College in Phoenix, Arizona. High Notes is her third collection of poems.
Ordering information:
High Notes hardcover—ISBN 978-0-9815163-8-7, $25.00
High Notes paperback—ISBN 978-0-9815163-9-4, $16.95
Release date: April 7, 2010
Distributed by Small Press Distributors (SPD)
http://www.BenuPress.com
Advance praise for Lois Roma-Deeley's High Notes
"The poetry is terse and direct, packed with significance. She creates language to capture a beautiful experience; the music of the lines alternate between dark and bright, sad and happy, mean and sweet. This is pain poetry—pain endured, celebrated, loved and danced to. This poetry tastes blood, not the blood of hospitals or healing but of open wounds getting wider, deeper, unforgiving. It's taut, tough, in your face, and it orchestrates like a mad symphony of howls and laughter—and blues, blues, blues, baby—that burn to read. It's a clean, crisp, starlight fire that'll lead you back to your life purpose and make you rethink and reshape your view of life." - Jimmy Santiago Baca
"In the emotionally rich and technically varied rhythms of High Notes, the voices of four men and women, black and white, negotiate between the excitements of jazz and the constrictions of poverty and drugs, accompanied and overseen by an angel's presence. Jazz greats make cameo appearances in this lyrical, fragmented narrative, but the spotlight is on the invented characters. From sonnets and other fixed forms to jazz-inspired improvisations and prose poems, the book's shifting styles reflect the characters' complex lives. Incomplete, unresolved, hovering between tragedy and redemption, their story stays with us." - Martha Collins
"Containing riffs and improvisations in various keys and tempos, Lois Roma-Deeley's High Notes captures the starkness and despair of the late 1950s jazz scene, where every blues number is fueled by alcohol, heroin and guilt. High Notes unrolls like a period film in blacks, whites and all the shades of gray, telling the intertwined stories of four characters who can endure anything except the absence of hope." - R.S. Gwynn
# # #