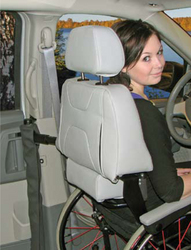 It is my belief that the Lokk Up & Bakk Flip is a 'game changer' for the disabled driver
San Diego, CA (Vocus) July 7, 2010
Ability Center recently announced that they have joined Mercury Dynamics, LLC, an exclusive national dealer group to represent the Lokk Up & Bakk Flip Wheelchair Restraint System in their six locations in California, Nevada and Arizona. The product was designed in Sweden and has been crash test certified to the ISO 10542 standards in Sweden at Volvo's Safety Lab. The product is new to the United States as of May 1, 2010.
Chad Blake, Corporate Sales Manager for Ability Center is excited about the opportunity that the Lokk Up & Bakk Flip provides. "It is my belief that the Lokk Up & Bakk Flip is a 'game changer' for the disabled driver," Blake said. "The safety features in this system are unlike what we have seen before in this product category. The feedback that we already received from driver evaluators is positive and we believe that ultimately this will be the standard in manual wheelchair securement for the disabled driver."
The Lokk Up & Bakk Flip allows for a person to drive while remaining in their wheelchair. Low-back, lightweight wheelchairs can be used to make safe and comfortable driving seats. With the press of a button, the Lokk Up secures the chair at four points. The Bakk Flip backrest then turns into position, automatically giving the user proper back, neck and head protection and comfort.
Brian Satran, President of Mercury Dynamics LLC, the distributor of the product who has been working to bring it to the United States, chooses select dealers across the country to carry the Lokk Up & Bakk Flip. "I chose to work with Ability Center because of their industry reputation and expertise," Satran said. "I've worked with Ability Center team for five years now as a vendor, and in that time I have seen first-hand how committed their entire team is to providing great products and more importantly, exceptional service to their customers. I could not ask for a better group to represent the Bakk Flip & Lokk Up."
Satran wanted to bring the Bakk Flip & Lokk Up to the United States because of the innovation of the automatic four point lock down system and supporting backrest that does not currently exist in the U.S. The Lokk Up is compliant to the new WC19 and SAE J2249 standards.
This device can easily be installed in all makes and models of lowered floor minivans, and full size vans. Lokk Up and Bakk Flip are designed to be used together but can also function with another docking device on the market. The invention will be showcased at upcoming mobility expos and conferences. More information about the product can be found at http://www.lokkup.com or contact Brian Satran at brians@mercurydynamics.net
Customer Testimonial:
As a 15-year-old girl Jasmine Jungestedt never imagined how much her life would change after suffering a C-5 spinal cord injury in a diving accident in 1999. After 10 years of rehabilitation and driver's training, Jasmine earned her driver's license in 2009. Upon receiving her license, Jasmine was able to purchase a wheelchair accessible van. She had the Bakk Flip & Lokk Up system installed and nearly two years later Jasmine uses her van with the Bakk Flip & Lokk Up system every day. "I like the fact that the Bakk Flip & Lokk is so safe and practical and it allows me to be independent within my daily life, I consider it the ultimate solution for a vehicle user in a manual wheelchair," Jungestedt said. "I just roll into my vehicle with no fuss, secure in, and I'm on my way."
Ability Center:
For Further information about Ability Center visit http://www.abilitycenter.com
Ability Center features the most innovative and best name-brand wheelchair accessible vans, handicap accessible vans, and mobility products. Our goal is to help the physically challenged and disabled people elevate their quality of life through increased mobility.
What sets us apart is our family of dedicated mobility professionals, motivated to help others lead more active lives through an accessible wheelchair van conversion, handicap accessible vehicle, or scooter-wheelchair lift in a car, truck, SUV, minivan, full size van, or cross-over vehicle. Our Certified Mobility Specialists provide unbiased information based on your needs. We'll find the right mobility vehicle and wheelchair lift solution to get you moving in your home or business, outside, around the country and beyond. We also offer parts and repairs service in San Diego, Los Angeles (Orange County), Sacramento, Las Vegas, Phoenix, and Tucson.
# # #