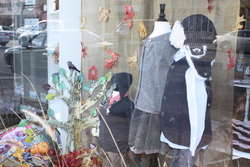 "We offer classic clothes with a twist. Our products are fun and stylish, while still respecting the innocence of childhood."
Evanston, IL (PRWEB) November 19, 2010
Hop on over to Lollie, the Evanston children's boutique now under new ownership. Located at 1312 Chicago Ave., the store is in a family-friendly area, surrounded by a pet shop, bagel restaurant, ice cream store, and for moms and dads, a nearby Starbucks.
Opened in 2003, the store was recently purchased by mother-daughter duo Cheryl Del Campo, a Chicago resident, and Alexis Del Campo Eyler, a local mother of three, Evanston Symphony violinist and Lincoln School PTA co-president. Both women have been big fans and avid shoppers of the store for years.
The pair did not want to change the quality of the product in the boutique, but rather, wished to offer broader selections and price points as well as make the store more kid-friendly. Lollie's children's play area has been expanded to include a fish tank at perfect viewing level for little ones. Lollie will also be hosting a number of special events including craft days, sip and shops, and is available for private engagements, such as shopping parties, as well as after-hours appointments. Gift certificates and shipping are also offered, and, if you're in a hurry, purchases may be made via the website for in-store pick-up.
Eyler, 35, started her retail career in college, when she worked at Banana Republic. Following graduation from Columbia University's Barnard College in New York City, she worked as an assistant buyer at Macy's NYC headquarters, the largest store in the world. She polished her business skills by becoming an officer in the Wealth Management division at Citigroup in New York City while pursuing a master's degree at Columbia's Teachers' College. After moving to Chicago in 2003 with her husband, Craig, the couple soon had three children, now ages 6, 5, and 2. "Nearly all of the clothes, toys and accessories we carry have been tested by my own kids," Eyler said.
A long-time resident of the North Shore, Del Campo, 57, is an expert herself when it comes to children's clothes, having raised four children as well as being a generous gift-giving grandmother. The mother of three girls, Del Campo made many of her daughters' clothes when they were little, from Halloween costumes to intricately smocked dresses. Del Campo is most impressed by the quality of the clothing at Lollie. "You can see and feel the quality in every article of clothing in our shop. Much care is taken in making the clothes we carry and it shows."
According to Eyler, the boutique has a very New York feel to it. "We offer classic clothes with a twist," she said. "Our products are fun and stylish, while still respecting the innocence of childhood.
Lollie (as in pop) features distinctive clothing, toys, books and accessories for boys and girls, from infant to size 8. Beloved and fashion-forward brands include Appaman (graphic T-shirts, outerwear, pants and more), Glug (more fun Ts and cotton knit dresses), Pink Chicken (leggings and simple dresses zapped with glitter buttons) and Neige (elegant, beautiful, coordinated clothes).
Almost all the designers are domestic, with the exception of a few stuffed animals and toys and the well-known Petit Bateau brand, whose layette line will debut at Lollie in the New Year.
With three boys between them, Del Campo and Eyler know that after a certain age, some boys are as sartorially selective as girls in what they wear. "They don't like zippers or buttons," Eyler said, "so we carry wonderful pull-on pants that can be easily dressed up with a soft cotton shirt or cardigan."
Besides clothes, the pair has broadened their lines to include diaper bags, toys and gift sets, such as organic layette from Petunia Picklebottom and Nap 'N Sacks (travel-sized blankets and pillows for kids on the go) by The Piggy Story. There are also three-dimensional puzzles and mobile homes from Kidsonroof.
"One of our customers said we are a great store for browsing because she never feels pressure to buy but always finds something irresistible," Eyler said.
Lollie is open Tuesday-Thursday, 10:00-5:30; Friday-Saturday, 10 to 5; and Sundays through Christmas from noon to 4. Browse, shop, and don't forget your complimentary Lollipop!
For more information, call 847-328-7303 or visit http://www.lollieshop.com.
###