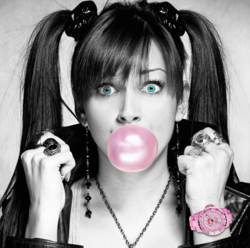 smell so good, you might be tempted to taste them!
Marina Del Rey, CA (PRWEB) October 29, 2012
The True2Form Design guys, known for creating innovative consumer products, have launched yet another remarkable product in the form of their lolly scented watch - Juice Collection, which has just hit the market. This collection offers colors that are based around your favorite fruit and smells like them too! Manufactured with material that imparts tantalizing fruity scents, this specially modified eco-friendly material boasts both color and scent "so realistic that you might be tempted to taste it!"- says the product webpage! The True2Form Design team has just launched their innovative lolly™ watch Juice Collection early this October.
The lolly™ watch tagline reads "for kids of all ages!" and it is aimed at the young at heart. The watch, available online at http://www.lollywatch.com and soon at stores and other select fashion outlets, is eco-friendly, vibrantly colorful, and uniquely scented to appeal to all five senses. To steer clear of the menace of plastic in this already plastic littered world, True2Form Design has done a remarkable job by investing in an eco-friendly product. The material is made from transforming cultivated softwood into a modified polymer called sentanite™, a completely eco-friendly material.
The lolly™ watch website explains the entire process behind the manufacture of these innovative scented, juicy watches. Softwood trees are specially grown and harvested and the wood transformed into wood pulp. The wood pulp is then used to produce cellulose ester rolls and subsequently pellets. The process of manufacturing the finished pellets involves treating the pellets through a unique process to ensure the material imparts the desired scent. This sentanite™ material goes into producing the bracelet and case of the aromatic timepiece.
Over and above creating watches from eco-friendly and sustainable material, True2Form Design has pledged to plant a tree for each lolly™ watch sold. It has become a proud "Plant-A-Tree Partner" to Trees for the Future, an organization which has been working to restore tree cover so as to help preserve traditional livelihoods and cultures for generations to come.
The launch unveils the lolly™ Juice Collection that features the lolly™ watch in eight colorful, funky, eco-friendly and scented variations - Apple, Black Currant, Blueberry, Coconut, Grape, Orange, Pineapple, and Strawberry. The colors featured are lively and bright, corresponding to the specific scent that they come with. So your lolly™ apple watch will smell like an apple and also look the same bright red. Something that is sure to appeal the "kid" in everyone, especially if you are someone that likes to match their outfits with funky and eye-catching accessories.
The watches specifications are impressive, run by the latest Japanese Miyota movement (the standard in high quality quartz watches the world over), a three hand analog display, hardened mineral crystal lens, a stainless steel case-back and clasp & crown displaying the distinctive lolly™ symbol and are 5 ATM water resistant. Though the company backs its unique product with a one-year warranty, the scent is expected to last well beyond its warranty period! The case and bracelet manufactured in sentanite™ are hypoallergenic, ensuring no skin reactions or allergies when wearing one of these fruity scented timepieces.
The lolly™ watches have been designed to appeal to the young at heart from all age groups, environment conscious, colorful, and energetic individuals. The colorful watches will attract attention with their bright colors, eco-friendly technology and tantalizing scents. Paired up with a favorite bright tee, dazzling smile and "love the planet" attitude and you have a winner on hand! These fashionable, fashion watches smell so good, you might be tempted to "taste" them!
About True2Form Design LLC
True2FormDesign is a pioneer in the field of innovative and creative consumer products. The company designs unique products and has a strong commitment to the environment cause and finding sustainable solutions. For more about the company and innovative products, visit http://www.true2formdesign.com