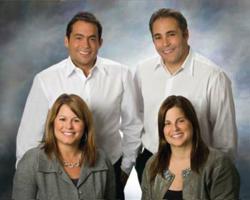 "The key to our success has been our commitment to quality, flexibility and most importantly, trust," says Anthony Lombardo, President, Lombardo Homes.
Shelby Township, MI (PRWEB) April 14, 2011
Second generation business owners Anthony, Sebastian, Anna Lisa and Cathy Lombardo are proudly celebrating 50 years of family tradition in building quality homes in Michigan. Lombardo Homes is known for their distinctive designs in prime locations at affordable prices. "The key to our success has been our commitment to quality, flexibility and most importantly, trust," says Anthony Lombardo, President of Lombardo Homes. "We know the importance of establishing strong relationships built on trust and integrity; whether with the farmer who sells the vacant land, the municipalities who approve plans, our trade partners who provide the materials and labor, our employees, or our customers. The belief that everyone deserves to be treated with respect is one of the foundations of our company culture. We have strived to make Lombardo Homes represent much more than just a name. We work every day to ensure it stands for our commitment to our customers, our employees and everyone we work with."
Founded in 1961 by Cosimo and Antoinette Lombardo and carried on by their four children, Lombardo Homes remains one of Southeast Michigan's leading residential developers and builders. What began in the City of Warren has grown to cover 9 counties and 28 communities in Southeast Michigan. "We owe our growth and longevity to having the ability and courage to adapt to the changing market while not losing perspective on the importance of listening to our customers."
When most builders were either giving up or leaving Michigan when the bottom fell out of the housing market, Lombardo Homes became more resolute in their belief that Michigan would bounce back. "We are one-hundred percent committed to Michigan and its residents. Our father stayed committed when the recession of the early 1980's hit and we remain just as committed today. Michigan is a great state with great people who understand what it means to survive. When it comes to building homes for people, we could not think of a better place to be."
"Our employees are taught to completely fulfill your expectations and go one step further, because exceeding our customer's expectations is what it's all about," says Anthony. In 2010, Lombardo Homes was ranked the 97th largest builder in the nation by Builder Magazine. At the same time, they were also ranked as the fastest growing builder in the nation. Other awards and recognitions include Developer of the Year, Young Builder of the Year, "40 Under 40" and the prestigious J.D. Powers and Associates award for quality construction and customer satisfaction.
Anthony says; "Even if you do not choose a Lombardo Home, you should only buy from a builder you know you can trust, who shows honesty and integrity and has a well earned reputation for quality and customer satisfaction. You should never have to compromise...it is your dream we are building." With a company philosophy centered on quality, flexibility and trust, Lombardo Homes continues to honor old traditions while creating new ones for the future.
###