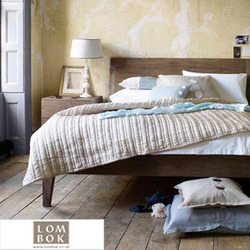 London, UK (PRWEB) July 22, 2009
If you're looking for a new set of bedlinen that will add a little luxury to your bedroom, we've compiled some useful tips to make the most of your purchase.
How to choose your bedlinen
Choose a linen which is made from 100% Egyptian cotton. The finest linens are made from this fibre. It will feel softer on the skin and last longer than inferior fibres, which are prone to pilling and looking dull after a few washes. Cotton in its natural form is a breathable fibre making it very easy to wash and iron and will help keep you cool in the hot sultry summers.
Thread counts can range from 180 to 1000. The more strands woven into one inch of fabric the softer and more luxe finish you'll be able to enjoy for years. A sateen linen with at least 300 or 400 thread count will make a big difference to the look and most importantly the feel of your covers. For a more textured and fluffy finish, a flannel linen is an ideal choice. It's surface is brushed after weaving for a much cosier warmth come the winter months.
How to dress your bed to impress
Here are some simple steps in order to dress your bed to feel as if you were in a five star hotel;

Firstly place your fitted sheet onto the bed.
Then take a flat sheet and place on top, tucking in the edges at the foot and the sides of the bed but leaving the top half untucked.
Use a quilt or bed throw with a thin to medium thickness to cover the sheet, and follow that by bringing the flat sheet neatly over the top and tuck all loose edges in.
Place 2 housewife pillows and then 2 Oxford pillows in front.
Add two large square cushions with an additional rectangular cushion.
For the piéce de résistance, decorate with fresh lavender or rose petals.
How to fold a fitted sheet
The old school dilemma of folding a fitted sheet can be easily tamed. Lay the sheet on a table or on the bed front side down. Fold in the edges, then bring the new edges in by about a quarter. Fold it then in half and begin to fold as a normal flat sheet.
How to buy bedlinen
LOMBOK's new Akoya and Mala bedlinen sets have launched just in time to refresh your bedrooms this summer. The Akoya' intricate design in taupe will add a touch of the East with a modern twist. Made from 100% cotton and with 300 thread count this set is luxuriously soft and feels delightfully cool for those muggy summer nights.
For more quintessentially country charm treat yourself and guests to the Mala set. It's delicate crochet trim detailing comes in both a taupe and duck egg colour to complement your bedroom furniture with elegance and style.
The Akoya and Mala bedlinen sets are available in stores and online from lombok.
Contact:
Hugo Rawlins
Lombok
02077518629
http://www.lombok.co.uk
###