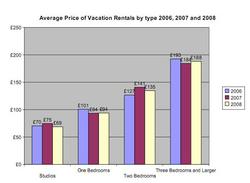 New York, NY (PRWEB) April 9, 2009
New York Habitat proudly announces the launch of London Vacation Renal Market Report. The report has been designed to share information about the Vacation Rental Market that is useful to apartment owners, people looking for vacation rentals in London and others parties interested in the London real estate market. The full report can be viewed on the London Furnished Apartment Market Reports website.
The report talks about the significant changes within the London housing market between 2006 and 2008. Some major issues in the macro real estate market include:

The global economic downturn
The slow down of the sales market for housing in London
The declining prices of apartment rentals in London
In the London Vacation Rental Market, the report finds:

A decline in pricing of vacation rentals as renters look for less expensive options
A continued growth in the number of completed rentals in London
Declining lengths of stay as people look to have less expensive trips.
The report uses a mix of graphs, charts and tables to portray a picture of the past and current markets. Provided here is a sample graph that details the average price of vacation rentals based on apartment type. More graphs can be found within the report including:

Average lengths of stay
Percentage of apartments rented by type
Percentage of apartments rented by neighborhood
Price ranges by apartment type
Size of accommodations rented
New York Habitat has created a London Furnished Apartment Rental Market Reports webpage, where this and future reports will be available. Since the company began offering rentals in London, in 2002, it has collected data about the market and will continue to assemble and analyze this information in future reports. The next London Vacation Rental Market Report will be released in the summer of 2009 and will contain data about the 1st half of 2009 rentals. The long-term goal is for this report to be an informative guide for owners who decide to lease, and vacationers and other renters who are looking for housing options during their stay in London.
Charles Rearden, London Agency Manager, says, "2008 was a difficult time for corporate travel but the vacation rental accommodation market for London remained steady despite, or perhaps because of, the economic downturn. Fluctuating exchange rates certainly affected the leisure industry but certain areas were able to capitalize on this." He goes on to say that "2009 could see a strong start to the year with a low British Pound but the key question is whether the ongoing global recession will dictate the pattern of travel or whether we might start to see a resurgence in corporate relocation.
Established in 1989, New York Habitat is a fully licensed residential real estate agency, specializing in furnished apartment rentals in New York, Paris, London and the South of France. With the help of our multilingual and multinational agents, apartments can be selected from a worldwide inventory of over 12,000 carefully chosen properties, including over 800 London Apartments, that are available from three days up to one year or more.
We invite you to contact New York Habitat for more information about the London Vacation Rental market report and for any other services you may require (listing your apartment, corporate housing, student housing, and/or renting in any of our destinations). For the latest London market news and to learn more about New York Habitat-related topics, please visit New York Habitat's blog.
###