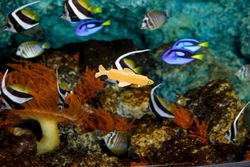 In a recent survey we carried out with school children 1 in 10* actually named a fish finger as a real fish so we decided to put the public to the test
(PRWeb UK) October 13, 2009
Aquarists at the SEA LIFE London Aquarium have hoodwinked the public with a decidedly "fishy" new marine species - a family of "fish finger fish". A new display, featuring models of fish fingers with fins and tails billed as bona-fide aquatic life has startled guests over the last week - BUT has fooled as many as it has amused, report the team behind the tongue in cheek hoax. The gag was prompted by a survey in which 1 in 10* respondents said fish fingers were real fish and although it is intended to raise a smile there is a serious underlying message.
"In a recent survey we carried out with school children 1 in 10* actually named a fish finger as a real fish so we decided to put the public to the test", says General Manager Toby Forer. "We've had a lot of fun watching people trying to decide whether our "fishy" fish really were the source of their frozen tea time favourite but the reasons behind the joke are deadly serious. Although awareness of the issues that face our marine life has grown in recent years, partly due to high profile documentaries and the kind of campaigning work we do here, there is still a lack of basic marine knowledge. Believing there really is a fish finger fish is laughable stuff, but unless we all become more "marine aware" the future of our vulnerable oceans is in question."
The Fish Finger Family will remain at the London Aquarium until 1st November. Guests can also learn more about what they can do to make a small difference to the world's marine environment AND, of course, enjoy thousands of REAL sea creatures from sharks to seahorses.
TOP MARINE MYTHS

A fish finger is NOT a fish. It is a processed (usually frozen) food using fish (most commonly cod or salmon which is then battered and/or breaded).
Flying fish do NOT fly; they are just long distance gliders
Corals are not plants; they are animals with hard skeletons and soft bodies.
Sharks don't prey on people; they usually attack mistaking humans for marine animals on which they feed or when provoked.
Not all jellyfish sting; or at least not badly - some are so mild they can't be felt.
KEY AQUATIC CHALLENGES

Over fishing; when the amount of fish caught exceeds the amount of fish needed to sustain fish stocks in a given region it has serious implications for species preservation. Fish under threat through overfishing include cod, halibut, haddock and tuna. People can help address this serious decline by ensuring they purchase fish from sustainable resources; check http://www.mcsuk.org for further information
Whaling; commercial whaling has decimated populations and endangered the species.
Pollution: A wide variety of pollutants, including pesticides, sewage and industrial discharges impact on the eco-systems of the world's seas and oceans.
Acidification: The ocean takes in half of all CO2 emitted by humans, and marine life is beginning to feel its effects as the level of acidity on the ocean surface rises, reducing the amount of calcium carbonate available to coral, plankton and other marine life.
Bycatch/bottom trawling: Bycatch refers to marine wildlife unintentionally caught by fishermen in the pursuit of a targeted species and kills hundreds of thousands of creatures every year. Bottom trawling is a fishing method that drags heavy metal chains across the ocean floor, destroying ancient deep-sea coral forests and other delicate ecosystems.
*125 seven year olds were asked to name 3 fish in a questionnaire conducted in September 2009. 1 in 10 listed fish fingers. The top three answers were goldfish, clownfish (Nemo) and fish fingers.
http://www.sealife.co.uk/london
NOTE TO EDITORS:
The SEA LIFE London Aquarium is a major centre of importance for marine breeding in the UK and strives to inform visitors about the threats faced by sea creatures and build awareness of, and support for, aquatic conservation endeavors. In recent years a special programme has been established across the SEA LIFE network of 29 centres to develop these activities and the SOS (Save our Seas) Programme has successfully campaigned on a number of issues including whaling.
###