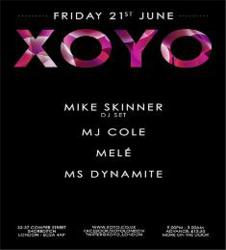 (PRWEB UK) 11 June 2013
Music lovers across night clubs in London are looking forward to partying to the sounds of Mike Skinner, MJ Cole, Mele, and Ms Dynamite next weekend at XOYO.
Since Mike Skinners debut in 1994 with the eclectic 'The Streets' project the MC has gone onto enjoy charts success, awards, toured the world, and embarked on an acting career. Upon having his first child in 2009 and getting married in 2010 the star focused on fatherhood and changing his lifestyle. Mike's new project: The Dot has been receiving great reviews and will go down a treat at XOYO in Shorditch.
Ms Dynamite is no stranger to getting played across R&B clubs in London and her schedule shows no sign of easing up as the MC and singer prepares for a hectic festival season. You can look forward to hearing underground anthems such as 'What you talking About', 'Wile Out' and many more.
MJ Cole is one of the most requested UK Garage producers but many forget he is a talented DJ and also producer's hip hop, house and more. He has remixed countless hits played across many night clubs in London and recently produced Dizzee Rascals party anthem 'Bassline Junkie' so it's fair to say he'll be causing mayhem on the dancefloor.
Tickets to see the above acts plus guest Mele at XOYO in Shoreditch on Friday 21st June are priced at £12.50 so book now or miss out on a great party in the capital.
This news release has been brought to you courtesy of London Groove, for the ultimate luxury night out London Groove offers exclusive guest list, booth and table bookings across all venues, with no minimum spend, allowing guests to fully focus on partying.
There is also no membership requirement making London Groove's parties some of the capital's few quality club nights open to all.
The bespoke agency also has a dedicated website which, as well as providing bookings, allows guests to browse the latest pictures from the London nightlife scene including fashion, and celebrity gossip.
"London Groove's club nights are the ultimate destination in the City of London attracting over 900 party goers every weekend. Their style and luxurious feel mean you can make the most of the London nightclubs scene and have fun in three of the Cities best venues where anyone and everyone can enjoy a night of glamour," commented Steve Prashad, Director and founder of London Groove.
For further information, you can contact Steve Prashad at: steve(at)londongroove(dot)co(dot)uk.
Notes to editors
About London Groove
Launched in March 2004, London Groove was set up to provide a guest list service for London clubs and for people who wanted to go clubbing in the West End so they could sign up on the guest lists for their chosen club nights in the West End.
Initially catering to a range of London R&B clubs and providing a London clubs listing service, London Groove then focused on hosting its own club night in the West End every Saturday from which Soul Saturdays was born. London Groove steadily grew and has since worked with many nightclubs in London and expanded their music policy at their club nights to include Funky House, 90's Old Skool, Party Anthems and Club Classics.
"We aim to give our customer our help, support and value for money when booking a guest list, table or area and partying with us at any of our club nights. We pride ourselves on professionalism and customer satisfaction with our endless list of clients ranging from blue chip companies to small businesses to individual guests, not to mention some of the best nightclubs in London," says Steve Prashad, Director and founder of London Groove.
Website: http://www.londongroove.co.uk
Phone (office): 020 8252 1574 (10am - 6pm)
Phone (on the move): 07968 828 504 (10am - 8pm)
Soul Friday's at Yager Bar
Address: 2 Old Change Court, EC4M 8EN (Tube: St Paul's)
Capacity: 250
Opening times: 10:00pm – 2:30am
Minimum age: 21 years and photo ID
Soul Saturdays at The Refinery Bar
Address: 110 Southwark Street, SE1 0TF (Tube: Southwark / London Bridge)
Capacity: 300 people
Opening times: 10:00pm – 3:00am
Minimum age: 23 years and photo ID
Soul Saturdays at The Anthologist Club
Address: 58 Gresham Street, EC2V 7BB (Tube: Bank)
Capacity: 500 people
Opening times: 9:30pm – 3:00am
Minimum age: 23 years and photo ID