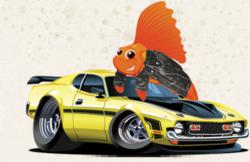 Perhaps London learned from Wall Street's mistake.
New York, NY (PRWEB) May 12, 2012
RoadFish.com men's lifestyle and finance magazine today noted that a recent study showed that bonuses for London's workers in the financial arenas will be divided nearly in half this year, falling to 2.3 billion pounds from 4.4 billion, at the same time last year. RoadFish.com could not help but look to American history and draw the comparison to the Wall Street bailout and bonus debacle back in 2009.
While there is no mention about bonuses for other occupations in London, leaving one to assume that there is not much to report for doctors, estate agents, and teachers, something drastic is reportedly happening with the financial workers' bonuses this year. Reuters reports that bankers and other employees of financial businesses around the city of London will receive a dramatic cut in their bonuses this year, reportedly nearly a 50% reduction from what they received last year. Reuters states that bonuses will fall to their lowest level in more than a full decade. The exact number reported for the estimated 2012 bonuses is 2.3 billion pounds (or roughly $3.7 billion US dollars,) down from the 4.4 billion pounds ($7 billion US) handed out last year at the same time. It was explained that banks usually pay bonuses in the new year instead of the traditional quarter in which they were actually earned. In the article, the Centre for Economics and Business Research (CEBR) is quoted as saying the cause is partially due to the repercussions of bankers' pay.
In 2008, taxpayer-backed bailouts were made for banks around Great Britain, not unlike the Wall Street bailout in the US in 2008. RoadFish.com drew similarities to the two events, but pointed out that there was much more backlash over the increase in bonuses handed out to American Wall Street bankers after the bailout. RoadFish.com's Senior staff writer is quoted as saying, "That was a huge issue, a personal issue for taxpayers a few years ago. The Wall Street Bailout came straight out of American taxpayers' pockets, and in 2009 and even 2010, banks were still handing out billions of dollars in bonuses. Unemployment was horrifically high and house foreclosures were through the roof at that point, and I know that a lot of people were furious about the bonuses. Perhaps London learned from Wall Street's mistake."
LondonLovesBusiness.com reported that the bonus cuts are a direct reflection of collapses in the banking business, and an abrupt decrease in financial services jobs. The article reports that the CEBR's chief executive, Douglas McWilliams, is quoted as saying, "City remuneration levels are coming back into the real world. Employees are being told, 'Your job is your bonus so don't expect a large sum in addition.'" He stated that bonuses are no longer the rule, but rather the exception. The article goes on to report that according to shareholder group Manifest's recent report, the payroll for the average London chief executive is around 400,000 pounds (approximately $640,000 US dollars.) And that number does not include all the perks that come with the position.
RoRoadFish.com believes that a modest dip in the bonuses of bigwigs could bring them down to the level of the typical taxpayer. RoadFish.com's Senior staff writer is quoted saying, "We are still dealing with the Occupy Wall Street movement, which began last year but the issues that sparked the action have been building for years. People were outraged by the huge bonuses that fat-cat Wall Street bankers received after the bailout. The UK should do well to avoid such issues by wisely cutting financial bonuses."
The above-mentioned LondonLovesBusiness.com article includes another quote from McWilliams, warning the public that huge bonus cuts are not necessarily a cause for celebration from taxpayers. McWilliams is quoted saying, "Before anti-City campaigners start jumping for joy, they should reflect on the fact that because City earnings are very highly taxed, the biggest loser of all will be the Treasury, meaning fewer funds available to finance public services." City bonuses have been a major cause of debate since bank bailouts were made in London 2008, out of taxpayers' wallets.
About RoadFish
RoadFish.com is an online men's lifestyle and finance magazine targeted toward men in their 30s and 40s that have already attained a moderate level of success in life, and are striving toward more. It goes over current events of interest to this group, such things as exciting adventures, making money, consumer interests, and hot chicks as well as ways to make more and save more money. It is a publication owned by Purpose Inc.
# # #